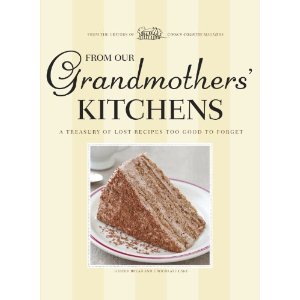 It is no secret how much I love cookbooks. I have a few, okay so I have quite a few, cookbooks in my collection. As vast as the internet is with all the information and recipes available, I still prefer holding and reading a book or cookbook in my own hands. Yes, I know to many that is odd, but there is something that I love about sitting down with a good cookbook in my hands and learning tips and ideas from others.
Some of my all time favorite cookbooks come from Cook's Illustrated and America's Test Kitchen. They get cooking. They get the science behind food and I love their stuff. When I found out that they had a new cookbook out called, From Our Grandmothers' Kitchens
, I knew I wanted this cookbook. I love old fashioned type recipes. They are usually basic recipes using ingredients that we have on hand and this book does not disappoint.
This book is like looking at your grandma's recipe box, yet with an updated modern twist. Yes, some of the recipes are a bit odd, but the majority of them sound like recipes my family would love. The first recipe I plan on trying from From Our Grandmothers' Kitchens
is the Potato Crust Quiche. It looks so simple and yet so good!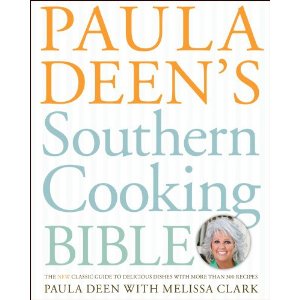 Did y'all know that Paula Deen had a new cookbook out?! I think that might just be the first time I said, "y'all" on this site, but when you talk Paula y'all just fits.
Paula Deen's Southern Cooking Bible
is classic Paula. If you love Paula, you will probably love this book. The recipes are classic Paula and her Southern style. Recipes that are every day food, with everyday ingredients. With that being said, it is also classic Paula and they are not the healthiest of recipes to make. But we all need a little butter once in a while, right?!
I have two small complaints about this book. First, it's lack of pictures. I love pictures in my cookbooks. They draw you in and make you want to make the recipes. This cookbook as a few pictures, but not many, and I wish it had more.
My second complaint is that many of these recipes seem to be the same or similar to recipes in her other cookbooks. Most of them appear to be new and I have not compared them side by side, but I am pretty sure at least a few are the same. I am probably noticing this because I have several other Paula Deen Cookbook's and I have watched a few too many Paula Cooking shows, so Paula's recipes maybe running together for me.
Over all I think Paula Deen's Southern Cooking Bible is a great cookbook and would make a great gift for any Paula Deen fan.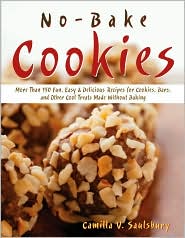 One of my newest and favorite cookbooks is No-bake Cookies: More Than 150 Fun, Easy & Delicious Recipes for Cookies, Bars, And Other Cool Treats Made Without Baking
. Several people have mentioned this book to me and I have also read about it several times recently. It is not a new release, in fact it came out in 2006, so I do not know why I had not discovered this book until recently.
I am loving all the quick and easy cookie ideas in this book. They are not all gluten and nut free, so I am having to adapt quite a few for my family, but I have been able to make many of the recipes work for us and feel like the book was well worth buying. If you are looking for quick and easy cookies, this might be the book for you.
Now for a few on my wish list. Although I do not need any more cookbooks, here are a few I would love to own.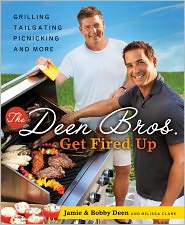 I love Paula Deen and own several of her cookbooks, but I do not own any of her sons' books. The Deen Brothers
cookbooks look like they would be great cookbooks though and I would love to see what kind of recipes they have. I really need to see if my library has their books. Do any of you own them? I would love to hear your thoughts.
And Martha has a new book called Martha's Entertaining: A Year of Celebrations
. I love Martha and I own most of her cookbooks. In fact, I might own all of them. I have heard her talking about, and advertising this book for awhile, and it sounds like a great book.
I really wanted it because I love Martha, but when I saw the price I could not believe it. I have to say that I am not sure this book will be added to my collection anytime soon.
Martha I love your books and recipes, but $42 is a bit much for a normal person to spend on a book on entertaining and recipes. This book is not being released until later this month, so I am really hoping that the price drops on it. I prefer my books and cookbooks to be in the under $20 range and closer to $10 is even better. Most of Martha's books are in the under $20 range, so I was a bit shocked by the price of this one.
What do you think about the price on Martha's new book? I would love to hear if you think it is worth it.
Have any of you seen the cookbooks I have mentioned? I would love to hear your thoughts?