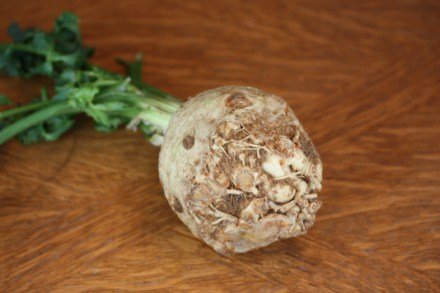 I was really surprised at how many of you knew that last Week's What Is It Wednesday was celery root.
And I was even more surprised at how many of you had tried it before. I have never had celery root that I know of.
This was kind of an impulse buy. I made a quick stop by the grocery store to pick up a few things and saw this in the produce section. I instantly knew it would be fun for my family to try and that it would be a good item for a What Is It Wednesday.
After I bought it and brought it home though, I had no clue what I was going to do with it. I did some online searching, and looked it up in a few food encyclopedias that I have, and found that it is often cooked either with or similar to potatoes.
Several recipes I found had you cooking and mashing the celery root like potatoes. I had mashed potatoes on the menu plan for the week, so I decided to give the celery root a try, mixed with potatoes.
The celery root smelled a lot like celery, but it tasted a lot like cauliflower to me. Several others in my family agreed. We also found the texture a bit odd. More crunchy and chunky than a potato.
I am thinking that I did not choose the best way to cook this. I think it probably would have been a lot better roasted on high heat with a few other vegetables. If I buy it again that is how I will cook it.
For those of you that enjoy celery root, what is your favorite way to cook it?