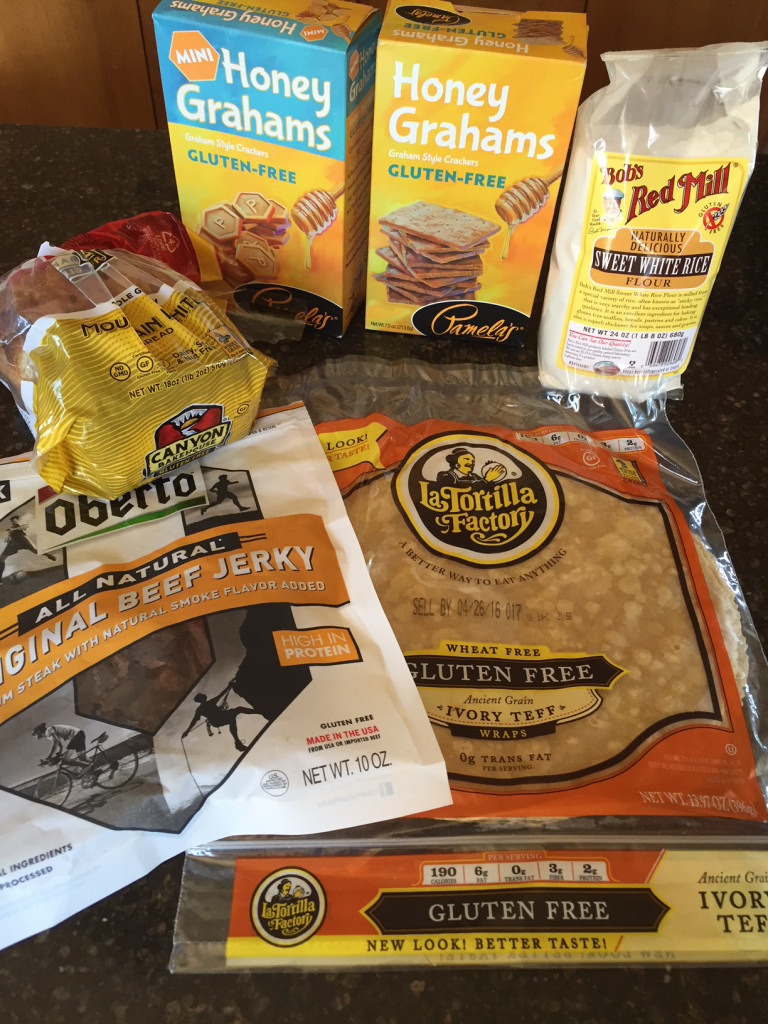 Last week I shared a few of my favorite things. It included kitchen tools, muffin pans, and a few other things. I loved doing sharing them and thought it would be fun to do a gluten free one as well. So yesterday I shared a few of my favorite gluten free products on Periscope.
I know that not all my readers are on Periscope, in fact I know many of you are not, so I thought I would put together a post with the products I mentioned.
I love sharing gluten free products that I find and I love supporting companies that make gluten free easier, so I might start doing a monthly favorite things post highlighting a few gluten free things that I am enjoying.
This post is not sponsored. It does contain a few affiliate links to Amazon. If you make a purchase through that link I get a small percent that helps support this site and what I do. But besides that no one is paying me to share these products. I am just sharing some products that I love and use!
Canyon BakeHouse Gluten Free
There are several brands of gluten free bread that we buy and enjoy. Canyon BakeHouse has become one of our favorites. The taste and texture is one of the best that we have found gluten free.
I also love that more and more places are stocking this brand. And that it does not come frozen. I can find it at Sprouts and Target.
Some of their products do contain sesame, so we avoid those, but we have liked all the products of theirs that we have tried.
Bob's Red Mill Rice Flour Sweet White
I love sweet rice flour for making gluten free desserts. My gluten free muffins, cookies, and cakes almost all contain sweet rice flour. It makes a huge difference in the taste and texture of gluten free desserts and baked goods. It can be a little hard to find, so I buy mine from Amazon. I actually have it on auto delivery because I use so much of it.
Oberto All Natural Original Beef Jerky
We love Jerky and go through quite a bit of it. My oldest daughter has a tree nut, peanut, sesame allergy, so snack food can be tough for us. When you take out the nuts you take out a lot of snack foods. My other daughter eats mainly dairy free, which takes out a lot of other high protein snacks like cheese. The combination can be difficult especially when we travel, which is why we love jerky.
The problem is that gluten free jerky can be hard to find because most jerky contains soy sauce or teriyaki sauce which usually contain gluten. Oberto All Natural Original Beef Jerky
is one of the few brands of jerky that I have found that is gluten free. And it is the cheapest of the gluten free ones that I have found.
Not all their jerky is gluten free, but several flavors are so be sure to read the labels. This is another one that is a little hard to find in my area. I can find the really small packages sometimes, but I usually just order it from Amazon or add it to my Amazon auto delivery.
LaTortilla Factory Gluten Free Wraps
There are two brand of wraps that my kids love. LaTortilla Factory is one of them. Aldi's gluten free wraps is the other one. I like the LaTortilla Factory Gluten Free Wraps a little better because they contain whole grain teff flour.
My family is not usually a fan of teff or some of the other healthier gluten free whole grains, but they love these wraps. I love that they are slightly healthier than some of the other gluten free wraps and they taste great.
Pamela's Gluten Free Graham Crackers
We have tried a lot of gluten free graham crackers over the last six years. Some were okay and some were awful. I have made my own gluten free graham crackers, but that takes a lot of time that I don't always have. And honestly if I am just going to use them in a graham cracker crust I would rather not make my own just to grind up into a crust.
I bought Pamela's Gluten Free Graham Crackers a few months ago to take to a church event we went to that was having smores for dessert. As soon as we tasted them we loved them. The taste and texture were so close to the real thing. I have bought quite a few boxes since them and we love them for both eating and making graham cracker crusts.
Our favorite way to use them might just be with leftover frosting.
I will say that they seem to break a little easier than normal graham crackers. They just seem more brittle, but that doesn't matter if you are going to use them in a crust anyway.
I will also say that many Pamela's products contain nuts. My daughter with a nut allergy pretty much stays away from Pamela brand products because of the cross contamination issues. So if you have a nut allergy, do your research on these. If you don't have a nut allergy please give them a try. I think you will love them!