Apple Snack Cake is an easy and delicious fall dessert!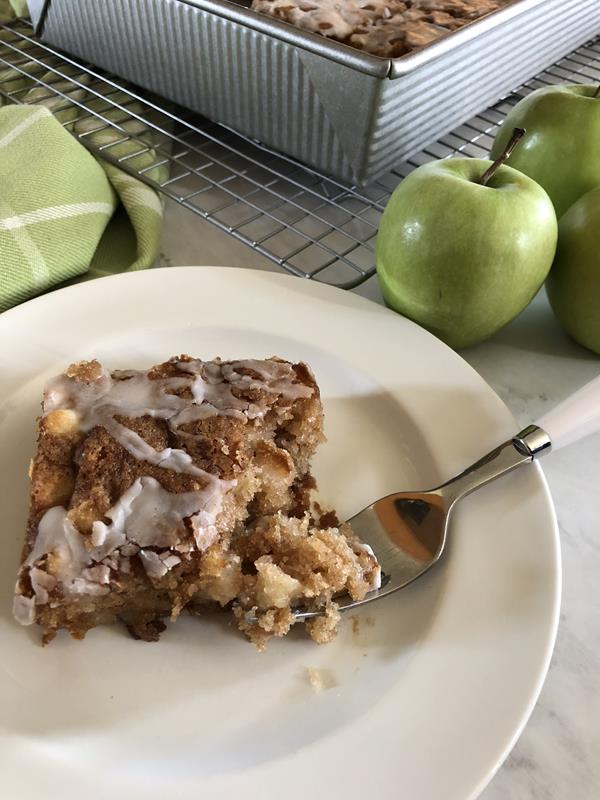 Apples are one of my favorite fruits to cook with. They have such a great flavor and make for moist and delicious baked goods.
And yes I used the word moist. Did you know that in the food world people don't like the word moist. It is actually a bit of a no no to say. Like everyone says avoid using it. Or more like never use it. It is known as a terrible word to describe food.
But it means the opposite of dry. In most baked goods you don't want them dry. You want them moist.
I have looked up the synonyms for moist. They are words like damp, soggy, humid, and not dry. None of those are great ways to describe food.
I am not sure about you, but I don't want a damp cake or a soggy cake. Moist really does sound much better. And when it comes to things like apple cake you want them moist. Because who wants a dry apple cake.
What are your thoughts on the word moist to describe food? Does it turn you off when someone uses the word moist to describe food?
Now that I have my food rant out of the way. 🙂 We can talk about the recipe. This apple snack cake is so good!
I love baking with apples anytime of year, but I especially love using them in the fall. The combination of apples and cinnamon in baked goods or desserts just say fall to me.
Many people think of pumpkin when they think about fall food. As soon as September first hits you see pumpkin everywhere and in everything. I love pumpkin, but I have to admit that I love apple recipes as much, if not more, than pumpkin ones.
I have some pumpkin recipes that I will be sharing, but before we move to all things pumpkin, I knew I had to share this apple snack cake with you.
I made this cake a couple of weeks ago and my family loved it. I ate two pieces of it while I was taking pictures of it. Normally, I will take a bite or two of something when I am taking photos, but this cake was just too good not to eat.
To make it gluten free I use Bob's Red Mill 1 to 1 gluten free flour blend. It works great in this recipe because the apples add so much flavor and texture that you can't even tell it is gluten free. So if you need a gluten free apple snack cake try using Bob's Red Mill 1 to 1 blend in this recipe.
More apple recipes that you might like!
Apple Snack Cake with gluten free option
Apple Snack Cake is a great dessert that is perfect for fall.
Ingredients
1

cup

butter, softened

2

cups

sugar

2

eggs

2

teaspoons

vanilla

2

cups

flour

(for gluten free version use Bob's Red Mill 1 to 1 gf flour blend

1

teaspoon

baking soda

1

teaspoon

ground cinnamon

5

cups

chopped peeled apples
Instructions
Preheat oven to 350 degrees.

Grease a 9x13 pan and set aside.

In a bowl combine flour, baking soda, and cinnamon. Set aside.

In a large bowl cream butter and sugar until light and fluffy. This takes 2-3 minutes.

Add eggs and vanilla and mix to combine well.

Stir in flour mixture and mix just until combined.

Stir in apples just until combined.

Spread batter into the greased 9x13 pan.

Bake for 35-40 minutes or until toothpick inserted into the middle of the cake comes out clean.

Note: You can eat this cake as is. It is delicious. But I also like to make a simple powdered sugar glaze to drizzle on top. Just mix 1 cup powdered sugar with a couple tablespoons of milk. Whisk to together and add more milk or more powdered sugar until you get the desired texture. You want it so that it drizzles easily. Drizzle over cooled cake.