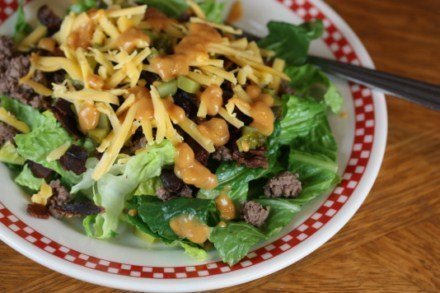 Bacon, ground beef, and cheese all in one salad with a mustard dressing on top, how can you go wrong?!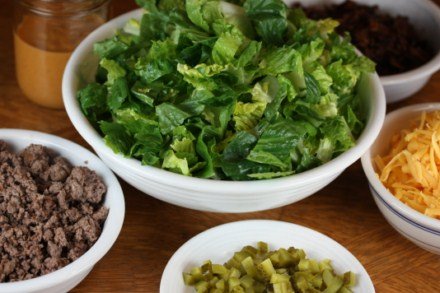 If I serve salad as a main dish it has to be a hearty salad with a lot of toppings. No light salads, otherwise known as girly salads, are allowed for a main course at my house. If I am serving salad for dinner it must contain meat and lots of it.
So today I have for you a new favorite main dish salad at our house, bacon cheeseburger salad with mustard dressing. This salad is definitely a main dish type salad and it is a salad that everyone is sure to enjoy.
It is hearty and so good. And because it is salad it is healthy right?!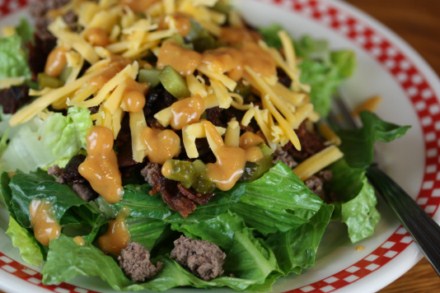 Bacon Cheeseburger Salad
For the dressing:
1/4 cup yellow mustard
2 tablespoons bacon grease
2 tablespoons milk
1/2 cup ketchup
For the dressing whisk together mustard, bacon grease, milk, and ketchup until well mixed. Refrigerate for several hours before serving.
For the salad:
1 pound ground beef that has been browned and cooked thoroughly
1/2 pound bacon, cooked and chopped, reserve 2 tablespoons of grease when cooking to use in the dressing
1/2 cup chopped pickles
1 cup shredded cheese
Lettuce
We like to set everything out and let each person put together their salad as desired, but you could easily combine the ingredients and toss with the dressing and serve it all combined.
Enjoy!