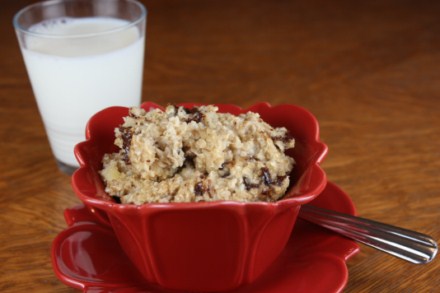 I have posted my baked peanut butter oatmeal, a baked peanut butter chocolate chip version, and my baked pumpkin oatmeal. I even posted my soy butter version that my daughter enjoys.
All of these are family favorites and we enjoy them, but today I have yet another version for you that we love and it is Baked Banana Oatmeal.
I love these baked oatmeals because not only are they easy to make, they are a healthy breakfast that my kids love.
This version is a basic baked banana oatmeal that we add chocolate chips to. The banana version is one of the most versatile of the baked oatmeals that I have come up.
I think it would be good with nuts and cinnamon added instead of the chocolate chips. This would make it a banana nut baked oatmeal. You could also easily add peanut butter to it and make it peanut butter banana baked oatmeal or peanut butter, banana, chocolate chip.
There are so many ways you can make this and that is what I love about the basic baked peanut butter oatmeal recipe that I came up with. They are all so easy and so good!
Some of you have already shared with me that you have experimented and come up with a banana version and others versions that you love. I am so glad that many of you enjoy the baked oatmeals as much as we do.
Look for more fun variations coming next month. I have a few more to share.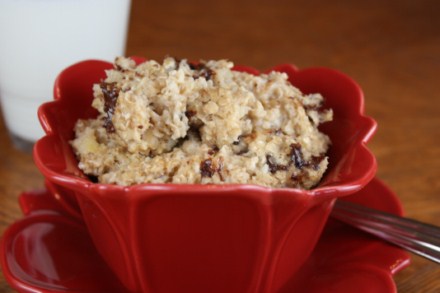 Banana Baked Oatmeal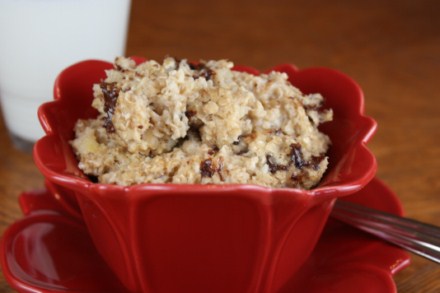 Have extra bananas? Make banana baked oatmeal.
Ingredients
3 cups quick cooking oats ( Use gluten free quick cooking oats for gluten free oats)
1/2 cup brown sugar
1 cup milk
2 tablespoons butter, melted
2 eggs
2 teaspoons baking powder
3/4 teaspoon salt
2 teaspoons vanilla
3/4 cup mashed banana or about 3 bananas
1/2 cup chocolate chips.
Instructions
Mix all ingredients together and stir well.
Spread in a greased 9x13 pan.
Bake at 350 for 20-25 minutes.
If you like it a little crunchy on top cook for a few minutes longer.
serve with warm milk poured over top.
Enjoy!
Nutrition Information:
Yield:
8 servings
Serving Size:
1
Amount Per Serving:
Calories:

332
Total Fat:

10g
Saturated Fat:

5g
Trans Fat:

0g
Unsaturated Fat:

4g
Cholesterol:

57mg
Sodium:

384mg
Carbohydrates:

56g
Fiber:

5g
Sugar:

25g
Protein:

8g