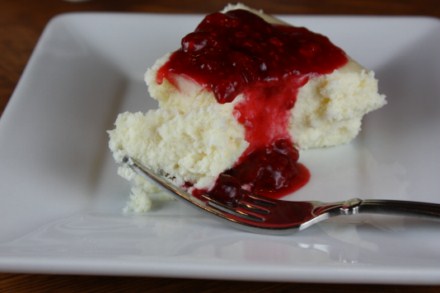 Yesterday I posted about my love of cheesecake and how I have finally discovered the trick to making the best cheesecake.
See how creamy that cheesecake is? It has a lot to do with the tips for the perfect cheesecake that I posted yesterday.
Today, though I want to share with you my new favorite cheesecake recipe. I served this Crustless White Chocolate Cheesecake last month when my sister and brother in-law visited and they agreed that this was one of the best cheesecakes they have eaten.
It is perfectly rich and creamy and oh so good.
This would make a wonderful dessert for the holidays served with a homemade raspberry or another fruit sauce.
And for those of you that prefer a regular chocolate cheesecake I will be posting a very yummy recipe for a chocolate cheesecake next week, that is also perfect for the holidays.

Crustless White Chocolate Cheesecake
1 1/4 lbs white chocolate, cut into pieces
3 egg whites
pinch of cream of tarter
3 tablespoons sugar
12 ounces cream cheese, softened
1 cup sour cream
1 tablespoon vanilla
2 egg yolks
Melt white chocolate in the microwave, stirring every 30 seconds until melted and set aside.
Beat the egg whites until frothy and then add cream of tarter. Slowly add sugar while continuing to beat. Beat until stiff peaks form. Set aside.
In another bowl beat cream cheese until smooth.
Add sour cream and vanilla and mix until smooth.
Add egg yolks one at a time beating about 30 seconds in between each addition.
Beat in the melted white chocolate
Fold one third of the egg whites into the cream cheese mixture. Once folded in well, fold in the remaining egg whites.
Prepare a 9 inch cheesecake pan using the water bath method. ( Do not skip this step the water bath helps give it the right texture)
Bake at 250 for 1 hr. Do not open the oven during this time.
After 1 hr turn off the oven but DO NOT open the oven. Leave cheesecake in the oven to continue cooking as the oven cools for 1 hr.
Remove the cheesecake from the oven and let cool.
Once cool refrigerate for several hours or over night. This is best made a day ahead.
Serve with my homemade raspberry sauce or another fruit sauce. This would also be good with a chocolate or caramel sauce.