Baked Egg Cups are an easy and delicious three ingredient breakfast.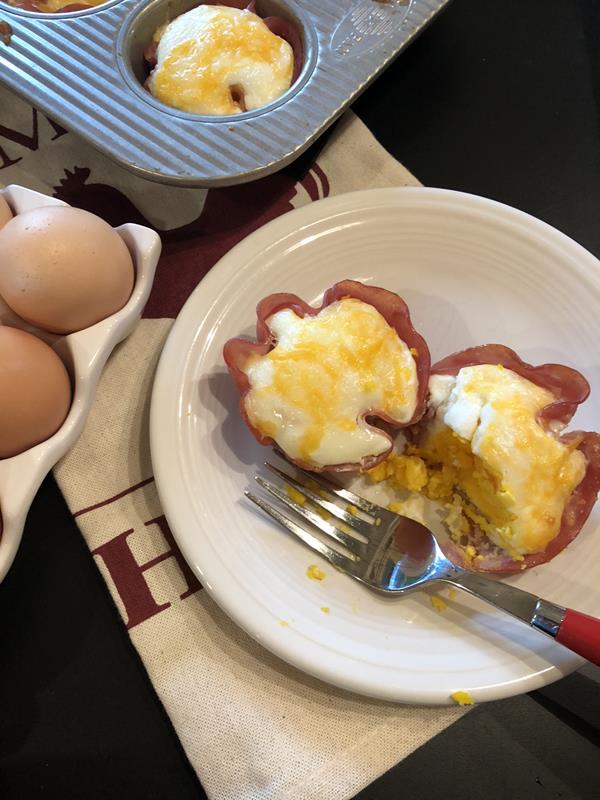 If you need an easy breakfast that is filling and fairly healthy baked egg cups are a great choice!
I have been making baked egg cups for years. It is one of those recipes that I thought everyone knew about, so I rarely mention them as a recipe.
However, I was recently talking to a friend about making baked egg cups and she had never heard of them and had no idea how to make them.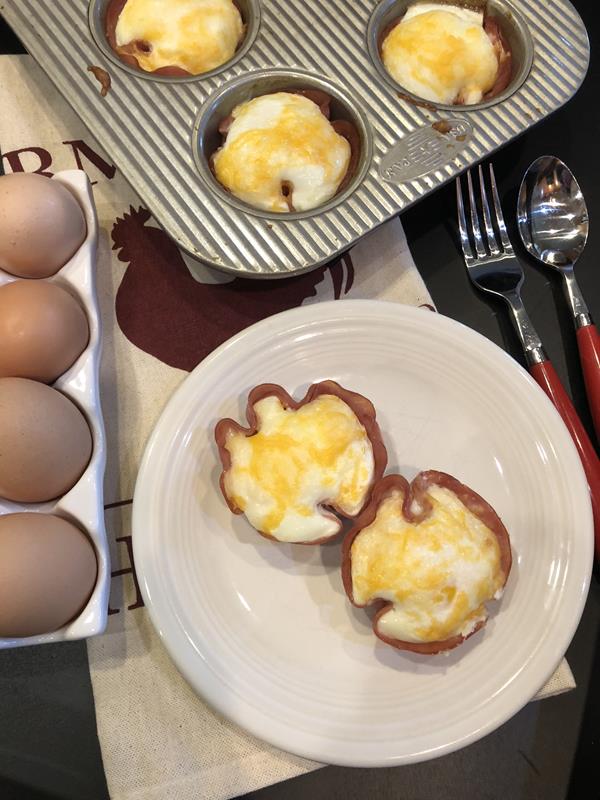 I decided that if she had never heard of them, maybe you hadn't heard of them either. So, I decided to share the recipe with you today.
And I am actually resharing this recipe because I first posted this way back in 2010. The post I did back then was buried in the archives.
I know many people need easy filling breakfast recipes and breakfast for dinner ideas, so it was time to reshare this one.
Baked egg cups have been a favorite in my family for years. When I make these I like the eggs soft, but not runny. You can easily adjust the time to the eggs just how you like them.
Add a few minutes for a firmer yolk and take them out a minute or two early for a more runny yolk.
For my daughter who is dairy free I just leave off the cheese.
These also reheat well. They are best fresh from the oven, but my kids love it when I make extra so that they can reheat them for breakfast the next day. It is an easy recipe to make extra of so make a few extra for your breakfast later in the week.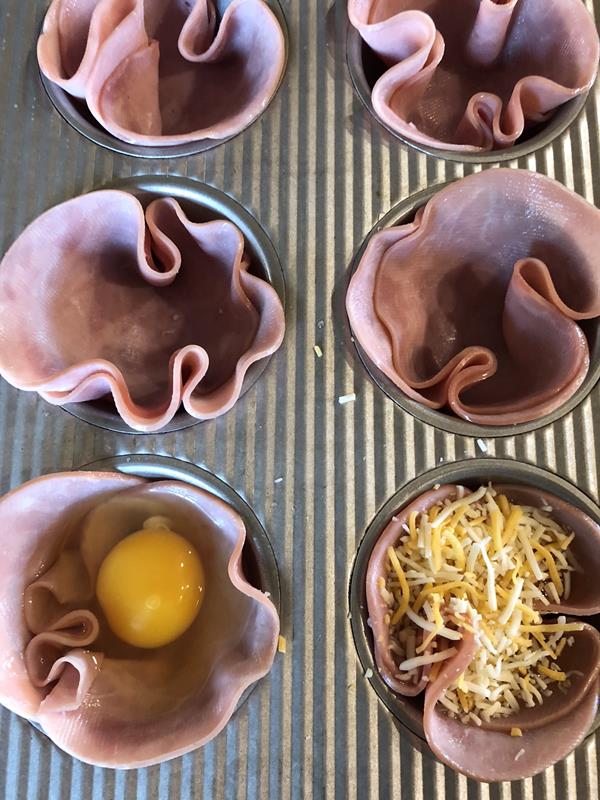 You can use any type of Canadian bacon or thinly sliced ham for baked egg cups. I use whatever I have. The Canadian bacon or ham just needs to be sliced thin enough to mold to the muffin cups.
Even a simple sliced ham lunch meat works well for making these.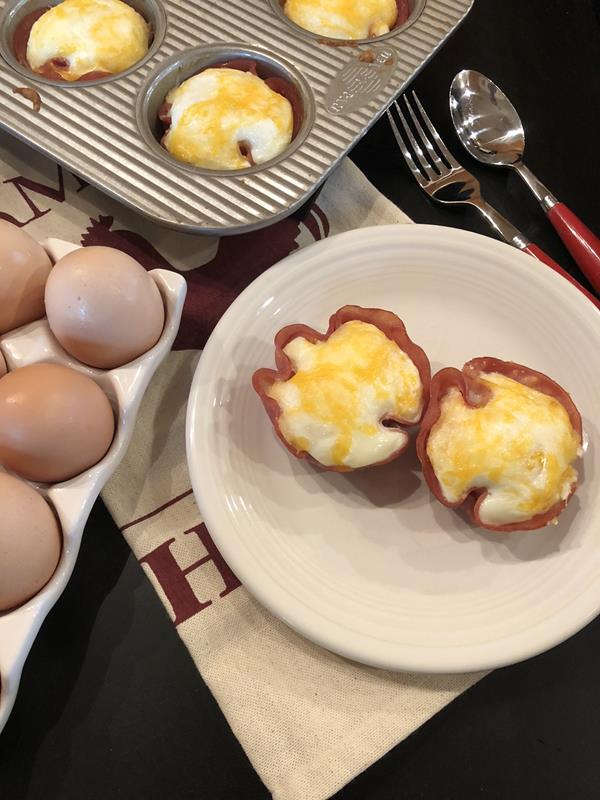 My favorite muffin pan for is the USA Muffin Pan. Nothing sticks to this pan. I love it. I own two of them. I also own the six cup version. I have given these pans as gifts and everyone has loved them.
Eggs and baked egg dishes are not always easy to clean off dishes, but in the USA Pan all I really have to do is wipe the clean. No scrubbing is needed. They really are the best muffin pans.
Need more quick and easy breakfast recipes? Here are a few of our favorites:
Baked Egg Cups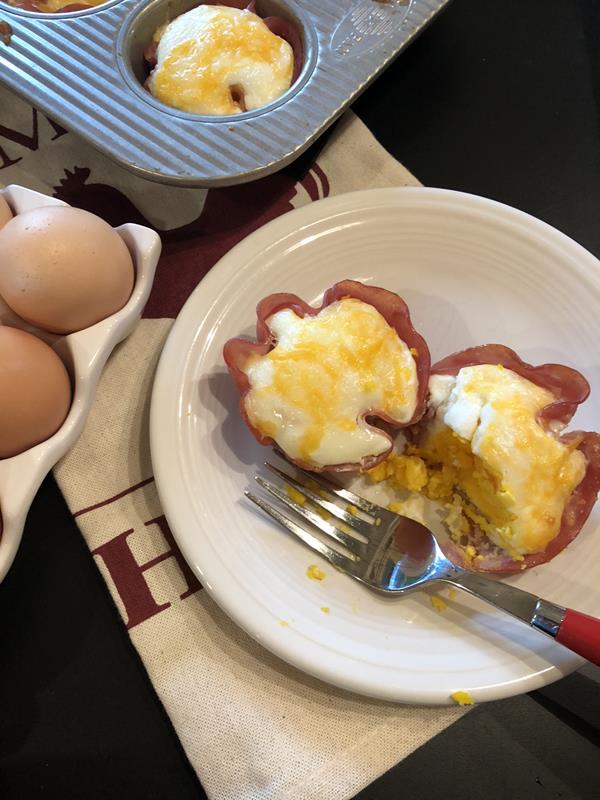 Baked egg cups are an easy breakfast that uses only three ingredients!
Ingredients
eggs
Canadian bacon or thinly sliced ham
grated cheese
Instructions
Line muffin tin with a piece of Canadian bacon or ham
Crack egg into the piece of Canadian bacon or ham.
Sprinkle with cheese.
Bake at 375 for 15-17 minutes. The time will depend on how you like your eggs.
Remove from pan and serve.