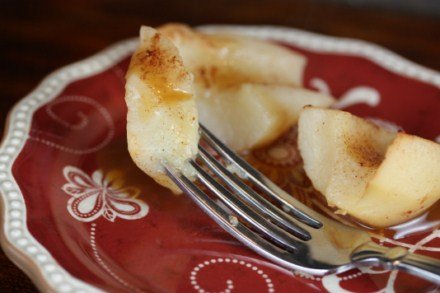 Sometimes I think we over think desserts. Yes, a fancy cookie or cake is a good thing, but too often we over look things like a simple fruit dessert.
This is the time of year for pears. They are at their peak right now and make a perfect snack or dessert.
One of the easiest pear desserts to make is baked pears. You simply bake them in a little water and sprinkle them with cinnamon. They are wonderful that way, but if you drizzle a little caramel sauce over them they are even better.
I think I could eat these every night for dessert during the fall and winter. I love them that much. So simple and yet so good!
Baked Pears With Caramel Sauce
6-8 pears, peeled, cut in half, and cored
1/3 cup water
½ – 1 teaspoon cinnamon
caramel sauce, I used an ice cream topping (read labels for a gluten free one or you could make homemade Dulce de Leche)
Place peeled and cut pears into a 9×13 pan. Pour water into pan. Sprinkle pears with cinnamon.
Cover the pan with foil and bake at 400 for 25-30 minutes.
Remove from oven and place pears on serving plates.
Drizzle with caramel sauce.
Serve and enjoy!