Barbecue Meatballs make are an easy meal that kids love. They are also easy to make gluten free.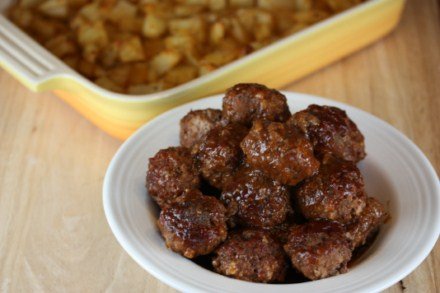 Today for Ground Beef Thursday I have a very simple recipe for you. It only calls for a few ingredients and kids love it. So easy and so good!
We like to eat these just as is, but you could easily serve these as meatball sandwiches or with extra sauce over potatoes or rice.
These also freeze great. So make extra and freeze them for an easy freezer meal.
Barbecue Meatballs
2 pounds lean ground beef
1 egg
1/4 cup quick cooking oats ( I use gluten free oats)
2 cups barbecue sauce (use your favorite brand)
In a bowl combine 2 pounds ground beef, egg, and quick oats. Mix until just combined. Form into meatballs using 2-3 tablespoons of meat mixture and place in a 9×13 pan.
Bake meatballs at 350 degrees for 30 minutes. Remove from oven and pour barbecue sauce over meatballs. (If your meat is not lean, you will want to carefully drain some of the fat off of the meatballs before adding the sauce.)
Continue baking for 25-30 more minutes or until the meatballs are done.
Enjoy!