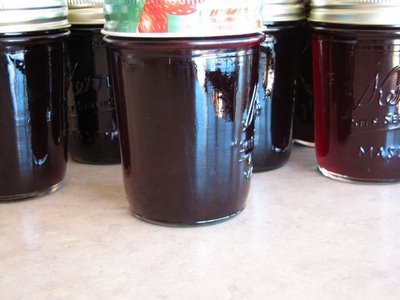 I love blackberries. I grew up eating and picking wild blackberries. They grew all over the road we lived on. We spent hours picking them so that my mom could make jams, jellies, pies, and cobblers.
Several years ago we planted a few blackberry plants. They are doing well. They are putting off some berries, but not a lot. Last summer we got quite a few over the course of a month or so. However, we did not get a lot at any one time.
I never had enough in one picking to make a pie or cobbler with. I decided to freeze the berries and make something with them later when I had enough. I ended up with several large ziplock bags full of them. Well, they sat in my freezer all winter and I only used a few of them to make a cobbler. I really wanted/needed to do something with them before this years crop comes in.
When my mom was here last week she said she would help me make jam or jelly out of them. I was so glad she offered to help. Making jam or jelly is not hard, but it is easier with two people.
When I was growing up my mom not only made jam and jelly, she made fruit syrups out of berries. We ate this all the time on our pancakes. I thought some blackberry syrup sounded very good. I also thought my kids and husband would like it on their pancakes and waffles.
So my mom and I made blackberry jelly and blackberry syrup. It is so good. I only got a few jars of each, but it was so worth it. Homemade jam and jelly is so much better than what you buy in the store. Plus I know what is in it, because I made it.
I can't wait for this year's berry season to start.