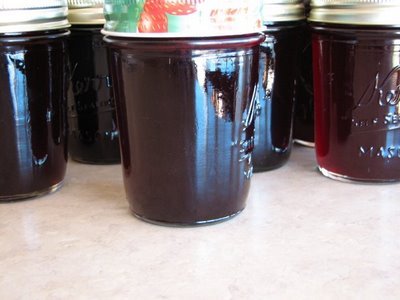 Last week when I posted about using my frozen blackberries to make jelly and syrup, I received a couple of comments wondering how I made my blackberry syrup. I know I have posted several times about blackberries recently, but I thought the best way to answer these comments would be in a post.
I am pretty simple when it comes to jellies and jams. I know that there are a lot of recipes out there for unique and gourmet jams and jellies. But we like our jellies and jams simple, so that is the kind I make.
I just follow the directions on the package of pectin that I buy at the grocery store. It really is a simple recipe and it works, so that is what I use. No fancy jellies and jams for us.
For the syrup it really is just as easy. Growing up we ate a lot of berry syrups on our pancakes. Sometimes my mom meant to make them and sometimes she didn't. There were times, for what ever reason, that her jelly would not set up, so we ate it as syrup. Now, to be honest my mom doesn't always follow a recipe well, which is probably why her jelly did not always set up(Sorry mom). If you follow the jelly recipe it should work fine.
But how do you make syrup on purpose? It really is easy. Just follow the recipe for jelly that comes with the box of pectin, for everything, but the berry juice. For the juice part you want to use 2 extra cups of juice. So, if the recipe for jelly calls for 3 cups of a berry juice, use 5 cups of juice to get syrup. Just follow all the steps the same, except for the amount of juice. I also process the jars of syrup by following the directions for processing jelly. If worked really well with the blackberries and we have been enjoying wonderful blackberry syrup.
Has anyone else made berry syrups before? How do you make them?