Summer is not quite over yet and I have a few more summer recipes to share!
Next Monday is Labor Day, which many people mark as the end of summer, but according to the calendar we have a few more weeks of summer left. That means a few more weeks of summer weather and summer fruit and vegetables.
I am not quite ready to move on to fall and winter foods and this week I have a couple of recipes left to share that are great for end of summer peaches.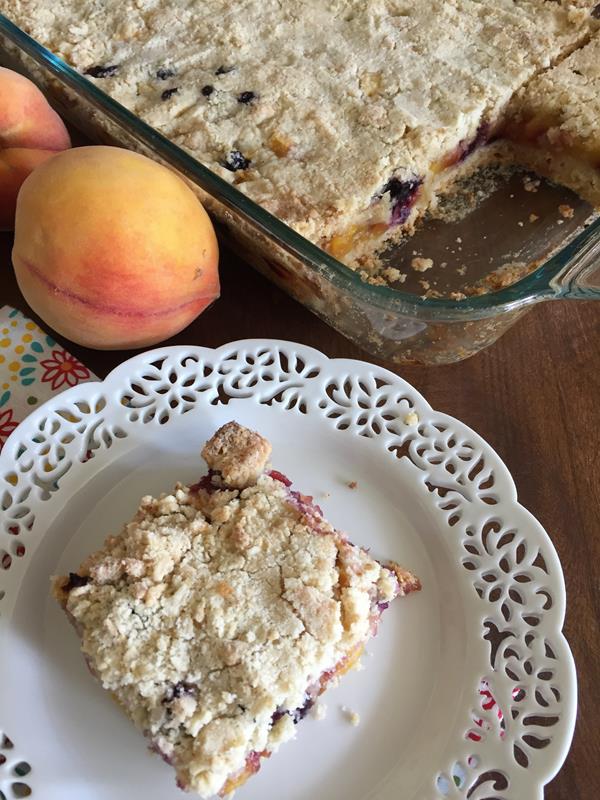 These peach blueberry bars are delicious! The blueberries and peaches together work perfectly. If you love fruit desserts this recipe is a must try!
Blueberry Peach Crumb Bars
3 cups flour ( Bob's Red Mill 1 to 1 Gluten Free flour works great in these)
1 1/2 cups sugar, divided
1 teaspoon baking powder
1/2 teaspoon salt
1/4 teaspoon cinnamon
1 cup butter, cut in small pieces
1 egg
1 teaspoon vanilla extract
6-8 peaches, peeled and cut into chunks
1 cup blueberries, fresh or frozen
4 teaspoons cornstarch
Preheat oven to 375.
In a bowl combine flour, 1 cup sugar, baking powder, salt, and cinnamon.
Using two forks or a pastry cutter, cut in butter until mixture is crumbly.
In a small bowl whisk egg and add to flour mixture with vanilla. Mix just until combined.
Reserve two cups of butter flour mixture and press remaining mixture into a 9×13 pan.
In a large bowl combine peaches, blueberries, cornstarch, and remaining 1/2 cup sugar. Spread over flour mixture that has been pressed into pan.
Sprinkle with the reserved flour mixture and press down slightly.
Baked for 40-45 minutes or until lightly browned.
Let cool and cut into bars.