If you have read my blog long you know that I love Martha Stewart's recipes and cookbooks. My husband's office gets Martha Stewart's magazine for the waiting room. I get the privilege of looking through it before we set it out and once in a while an issue is so good it never makes it to the office.
That is what happened with the July 2009 issue. It had some great recipes in it. My favorite recipe was for a pound cake. Not only was it a pound cake, but it had ten different variations. All of which looked good. The main recipe is just a basic and classic recipe for pound cake. I calls for a pound of butter, etc.
I recently had quite a few blueberries, so the blueberry version of the pound cake caught my attention. When I was talking to my sister, she told me she tried the blueberry version and it was very good. So I knew I should give it a try. It uses the basic recipe, but uses some sour cream in place of some of the butter and it has blueberries folded in.
This recipe is really good. I served it with some whipped cream, but my sister said she made a blueberry sauce that she served it with. That sounded good, but I did not have enough blueberries so I served it with just whipping cream.
This makes two loaves. We ate one and I froze the other. This is not a healthy dessert, but it is really good. And I will be sure to post about the different versions of this cake that I try.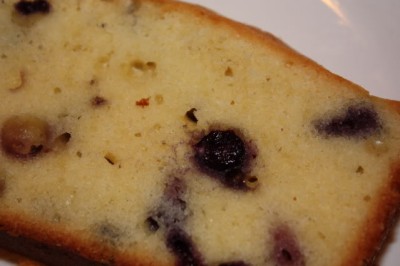 If you have some extra blueberries or just love blueberries, you should give this a try.

Blueberry Pound Cake
3 1/4 cups flour (plus 2 tablespoons for tossing blueberries in)
1 teaspoon of regular salt is what I used, but the recipe called for 1 tablespoon coarse salt
3 sticks ( 1 1/2 cups) butter, softened, plus more for pans
1/2 cup sour cream
2 cups sugar
1 teaspoon pure vanilla extract
9 eggs
2 cups blueberries
Preheat oven to 325 degrees. Butter two 5-by-9-inch loaf pans.
Combine 3 1/4 cups flour and salt in a bowl.
Cream butter, sour cream, and sugar with a mixer on high speed until pale and fluffy, this takes about 6-8 minutes. Scrape down sides of bowl. Reduce speed to medium, and add vanilla.
Beat eggs, and add to mixer bowl in 4 additions, mixing thoroughly after each and scraping down sides. Reduce speed to low, and add flour mixture in 4 additions, mixing until just incorporated. Toss blueberries in remaining 2 tablespoons flour; fold into batter. Divide batter between pans. Tap on counter to distribute; smooth tops.
Bake until a tester inserted into center of each cake comes out clean, about 65 minutes. Mine got a little brown on top at about 55 minutes, but was not done in the center. So, I laid a piece of foil on top of it and baked it for 10 more minutes.
Let cool in pans on a wire rack for 30 minutes. Remove from pans, and let cool completely on wire rack. Slice and enjoy.