I recently had a reader submit an Ask the Readers question about buttermilk. It was a great question, so I thought I would answer it today and let you all add your thoughts as well.
I love it when readers can help each other, so if you have a question for my readers or me, you can submit it by clicking here and filling out the form. (If I feature your question for Ask the Readers, I will email you to let you know when I post it.)
Now let's talk buttermilk. Here is the question that was submitted.
What is the deal with using buttermilk? I do not want to purchase such a large container if I am just using a cup or two. May I just use skim milk?
The answer is yes you can use milk, but you have to add a little lemon juice or vinegar to it.
If a recipe calls for 1 cup buttermilk you can take 1 tablespoon of vinegar or lemon juice and add enough milk to equal 1 cup. Stir and let it set for about 5 minutes. You can now use it in place of buttermilk in recipes.
You can also use about 3/4 cup plain yogurt and 1/4 cup milk stirred together in place of buttermilk. You want the yogurt milk mixture to be about the same consistency as buttermilk.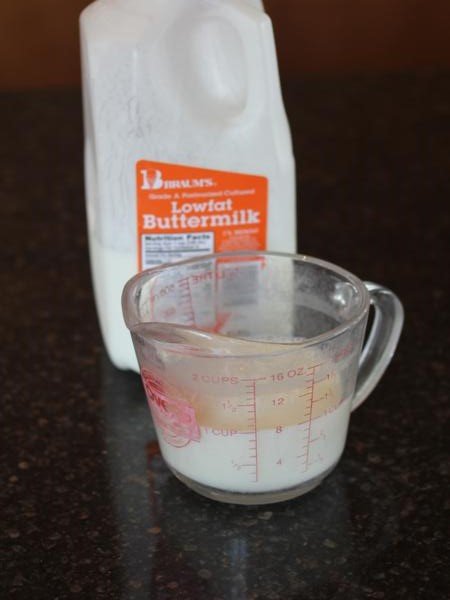 I will say that I prefer buttermilk. The real thing. Especially when I am making pancakes or biscuits. I have used the milk lemon juice/vinegar mixture, but I do think the texture is better with the real thing.
I know a lot of people don't like to buy buttermilk for just an occasional recipe, but did you know that you can freeze buttermilk. Yes, you can and it freezes great. I wrote a post on freezing buttermilk several years ago. It is really easy and lets you have buttermilk anytime you need it.
Now I would love to hear what you think?
Do you prefer buttermilk and keep it on hand or do you use something in place of buttermilk? And have you ever frozen it? I would also love to hear your favorite uses for buttermilk? What do you love to use buttermilk in?