Did you know that candy corn contains sesame oil? Yes, it does. Candy corn is one of those foods that you never think about until you have a sesame allergy.
My oldest daughter has a tree nut, peanut, and sesame allergy. She developed it at the age of twelve. It changed our life and her life forever.
No longer could we just grab food at the grocery store and put it in our cart. Every label that went goes in the grocery cart has to be read. Every food that comes into our home has to be checked.
When you deal with a life threatening food allergy you cannot put your guard down. Every ingredient that you eat has to be safe.
There are some foods that contain nuts, peanuts, or sesame that will surprise you. There have been many times that I have read a label and thought, really this contains peanuts? Because I had no idea that it did.
And just because something was nut free last year, doesn't mean that it is still nut free this year. Foods, brands, recipes, and formulations change. You have to check and recheck labels.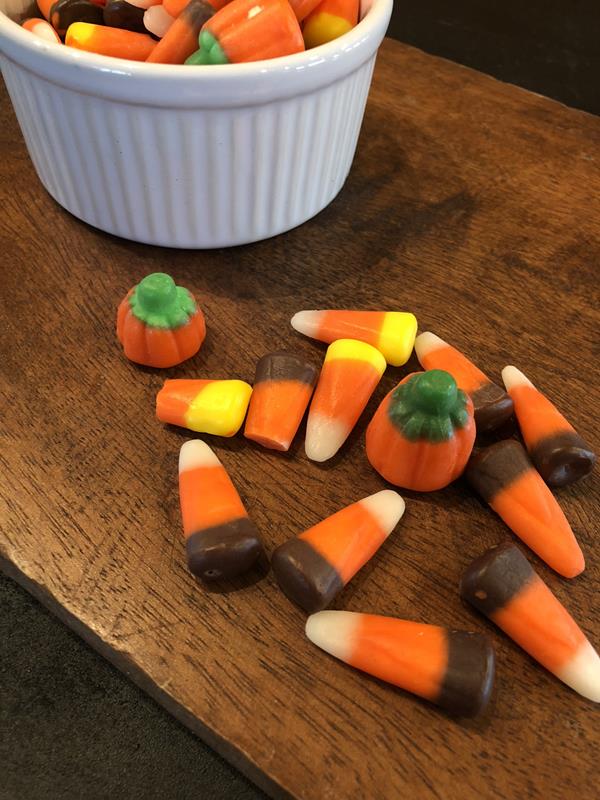 Candy corn is one of those foods that surprised me. I had no idea that candy corn contained sesame oil. I mean really who would have thought that sesame oil was an ingredient in a candy.
We didn't eat candy corn often. It was pretty much a once a year fall treat that I would buy. It was kind of a tradition. But once we discovered that Brachs, the main brand of candy corn that you see everywhere, contained sesame oil, we stopped buying it. It was no longer safe for my daughter to eat and I stopped buying it.
That is until I discovered that there is candy corn that does not contain sesame oil. That famous brand and a few others do contain sesame oil, but you can find candy corn that is sesame free. You just have to look for it.
Here are a few of the brands that we found that are sesame free. Now I will say depending on your other allergies some of these may still not be safe because they are made in the same facilities as nut products or on the same equipment. Just because it is sesame free, doesn't mean it is safe for the allergies that you have. I bought the brands below, but not all of them are ones that I encouraged my daughter to eat. So do the research and do what is safe for you.
Also, at the time that I am writing this, these brands are sesame free, but please always read labels. Just because it is sesame free now, doesn't mean that it will always be sesame free.
Now for the sesame free brands.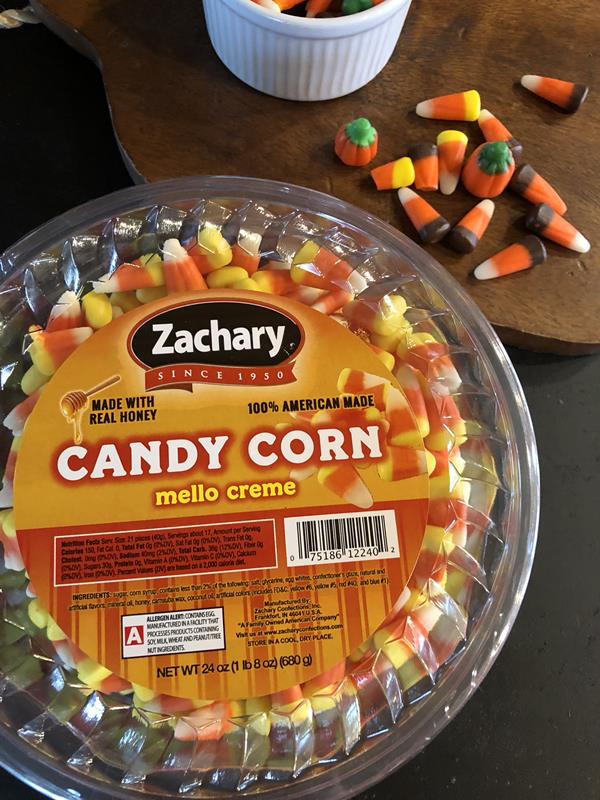 Zachary brand candy corn is probably our favorite sesame free candy corn. It is a little hard to find, but it is the closest to the Brach's candy corn that we have tried. Although it does have a warning that it was made in a facility that uses nuts. So depending on your food allergies this one may or may not be safe. It is our favorite and we can usually find it at Big Lots. Yes, for some reason Big Lots tends to carry this brand.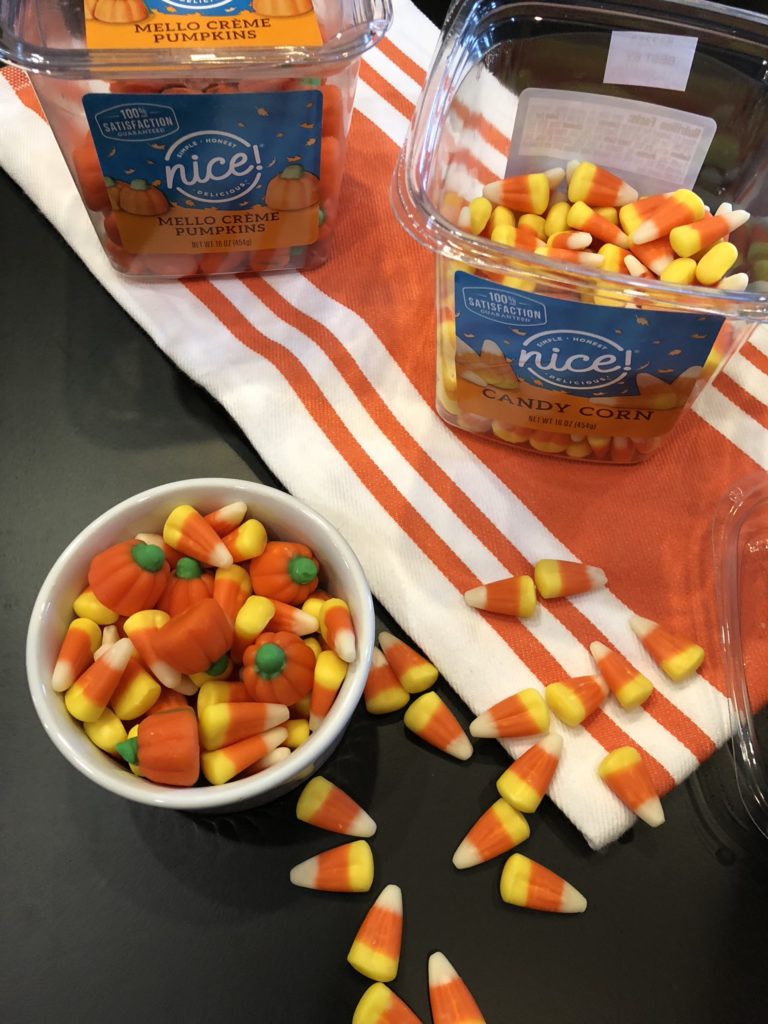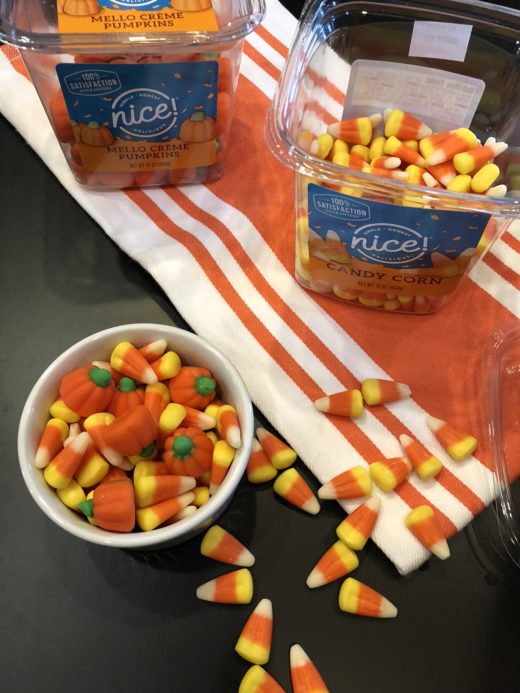 The Walgreen's Nice brand candy corn tasted pretty good, but this one was has a warning that it was made in the same facility as nuts. So again sesame free, but it might not be safe for a lot of people with food allergies.
We have also found candy corn at Sprouts grocery store that is sesame free, but is basically a bulk type of candy corn. Which means it has been bought in bulk and repackaged. It is really good, but not really one safe if you have nut allergies since you don't know how it was repackaged.
The Jelly Belly candy corn is probably the safest to eat if you have a lot of food allergies, especially nuts. It says right on the label that it was produced in a peanut free facility. However, it is not exactly like candy corn. It is close to the real thing, but my family thought it has a slight jelly bean taste. If you really miss candy corn though it is worth trying. This one is also hard to find, at least in my area. I bought it from Amazon.
I would love to hear what sesame free candy corn you have found. Have you found one that is sesame free or allergy friendly?
(And like I stated above read labels and do what is safe for your family. These brands are sesame free, but that doesn't mean that they are safe for everyone that deals with food allergies. Always read labels and do what is safe for you and your family!)