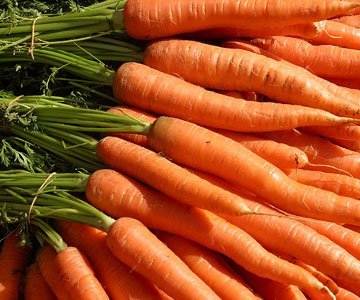 Yesterday, when I posted the recipe about the carrot muffins I had an interesting comment left. It was from someone from the carrot museum. Who knew that there was a whole website devoted to the carrot.
I was curious, so I went to the Carrot Museum Website. It was actually quite interesting and a little odd too. I spent way to much time this morning looking around and reading on the site. My daughter G was quite thrilled to know that there was so much information on the carrot, since the carrot is one of her favorite foods.
One of the interesting facts that I read was on baby carrots. I knew the store baby carrots were not real baby carrots. But so many people complain that they are not frugal. I have read and heard many times why you should not buy them because so much of the carrot has to be wasted. But did you know that is not entirely true. Baby carrots are made from reject carrots. Most people only want to buy nice looking long straight carrots. So a farmer got tired of all the waste of "ugly" carrots and came up with the baby carrot idea.
Here is what the Carrot Museum had to say and also some interesting facts they had on their site. If you want to know more about the carrot take a look around their site. I did not check out the whole site, so I do not know all that it contains, but overall I found it interesting.
Here are the facts:
"Manufactured" baby carrots , or cut and peel, are what you see most often in the shops – are carrot shaped slices of peeled carrots invented in the late 1980's by Mike Yurosek, a California farmer, as a way of making use of carrots which are too twisted or knobbly for sale as full-size carrots. Yurosek was unhappy at having to discard as much as 400 tonnes of carrots a day because of their imperfections, and looked for a way to reclaim what would otherwise be a waste product. He was able to find an industrial green bean cutter, which cut his carrots into 5 cm lengths, and by placing these lengths into an industrial potato peeler, he created the baby carrot.
The much decreased waste is also used either for juicing or as animal fodder. Perhaps most important, the baby-cut method allows growers to use far more of the carrot than they used to. In the past, a third or more of a carrot crop could have been easily tossed away, but baby-cut allows more partial carrots to be used, and the peeling process actually removes less of the outer skin that you might imagine They are sold in single-serving packs with ranch dressing for dipping on the side. They're passed out on airplanes and sold in plastic containers designed to fit in a car's cup holder. At Disney World, and MacDonald's burgers now come two ways: with fries or baby carrots.
Some Statistics:
In the US over 172 million tonnes of carrots are processed into baby peeled carrots.
In the US baby peeled carrots sales exceed US$400 million per annum.
Overall carrot consumption in the US has increased by 33% through the introduction of baby peeled carrots.
In the US annual consumer spending on baby peeled carrots exceeds US$2.00 per head.
In 1999 baby peeled carrot purchases passed whole carrots. 94% of US consumers purchased baby peeled carrots while 90% had bought whole carrots. Purchases of baby peeled carrots were even ahead of fresh salad mixes.
Baby peeled carrots have the lion's share of the carrot category accounting for over 80% of all retail carrot sales.
Up until 2000 baby carrots have dominated US produce department's with excellent growth ahead of all other produce items.