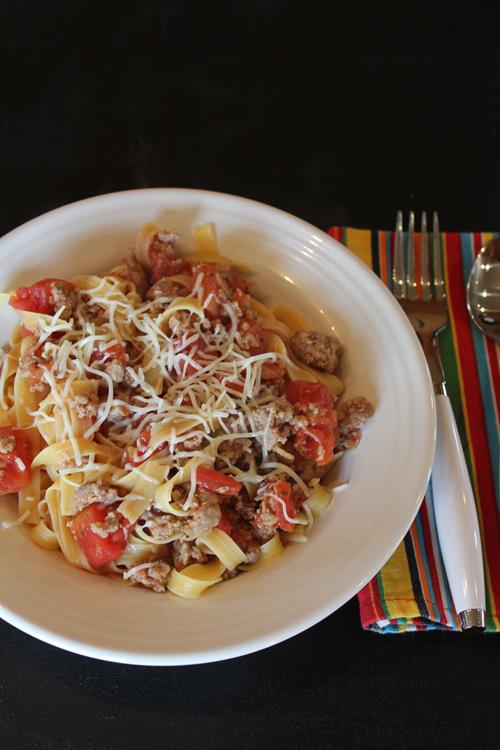 It is not secret that I love quick and easy dinners. This easy pasta sauce is just that. It is so quick and easy to make. There is no need to use a jar of pasta sauce when you can make it in just a few minutes.
Pasta sauce really can be made in a just a few minutes using basic ingredients. I think homemade sauce tastes better than the jarred kind, but I also love that I can control the ingredients. I know exactly what goes into this sauce.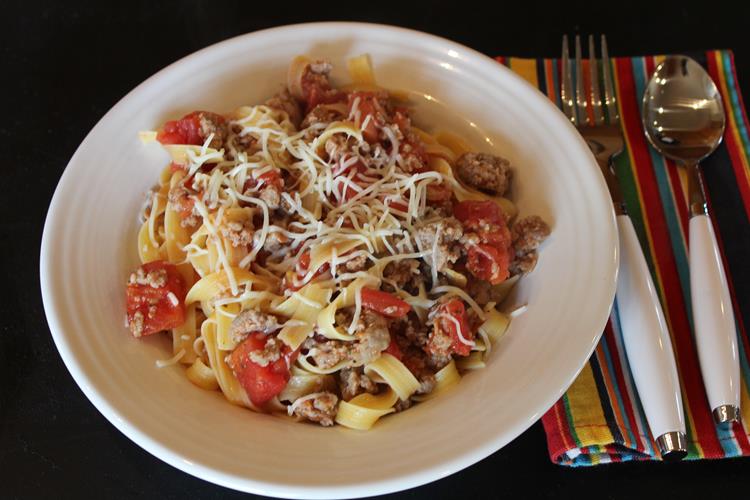 I have been making this easy pasta sauce for years. You can make this with or without the meat. If you prefer a meatless sauce just leave it out. If you like a sauce full of meat like my husband and son do, than add in a pound of cooked ground beef or sausage.
For this recipe I used my new favorite gluten free pasta. It has become my go to gluten free pasta. So good!
This recipe is great served with 40 Minute Rolls or Light and Fluffy Gluten Free Rolls.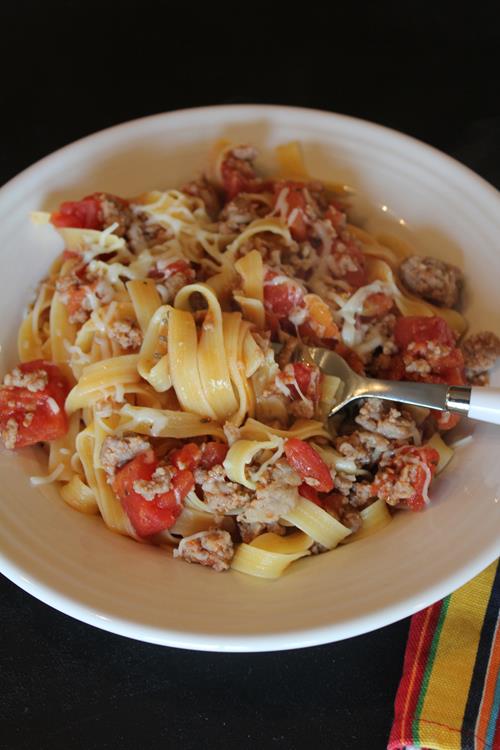 Easy Pasta Sauce
8 ounces spaghetti
4 tablespoons oil
4 cloves garlic, minced
1/4 teaspoon crushed red-pepper flakes
1/4 teaspoon salt or to taste.
 1 teaspoons dried parsley
1 teaspoon dried basil
1 – 28 ounce can diced tomatoes
1 pound cooked ground beef or sausage, optional, you can also make this a meatless sauce
Parmesan cheese for serving
Cook pasta according to package instructions. Reserving 1/2 cup pasta water when draining cooked pasta.
Heat oil in a sauce pan over medium heat. Add garlic to pan.
Cook, stirring occasionally, until garlic is lightly golden, about 30 seconds. Add red-pepper flakes, 1/4 teaspoon salt, parsley, and basil.
Increase heat to medium high. Add canned tomatoes and cook until sauce begins to thicken, 5 to 6 minutes.
Stir in meat if using and cook until heated through.
Add sauce to cooked pasta and cook 2- 3 minutes.
Add reserved pasta water if needed to thin the sauce out. I usually add some about 1/2 cup pasta water.
Sprinkle with cheese and serve.
Recipe updated April 2017.