Need an easy soup recipe for dinner this week? Cheesy Beef Enchilada Soup is quick and easy to make. It is cheesy and delicious.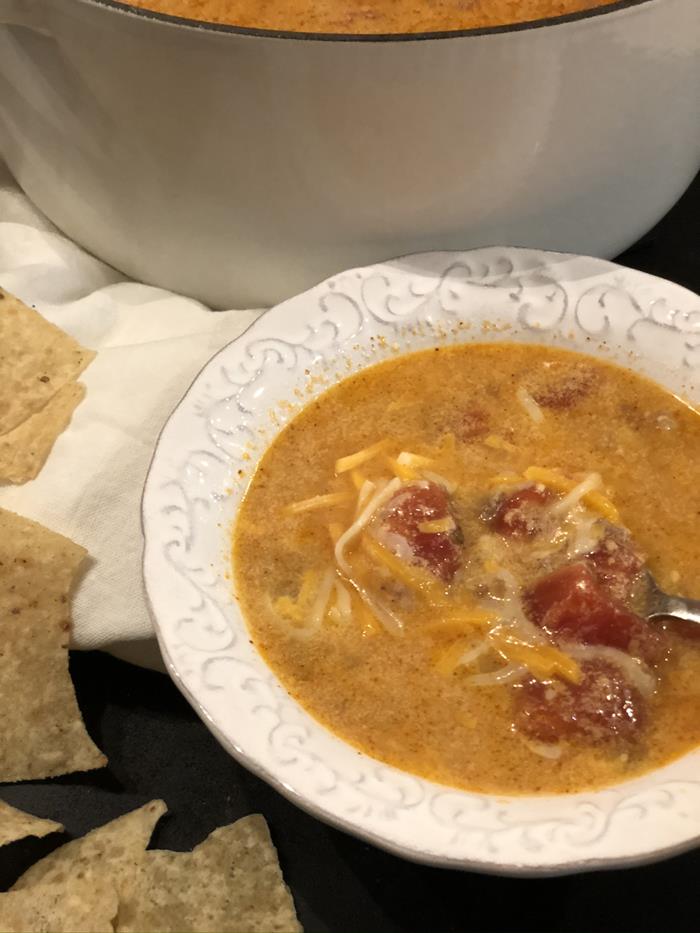 One of my goals for 2020 is to share more of the recipes that I have taken pictures for, but have never shared with you.
I have a folder full of recipe photos that I have yet to share because the photos are not great. The recipes are ones that we love, but for one reason or another the photos did not turn out great.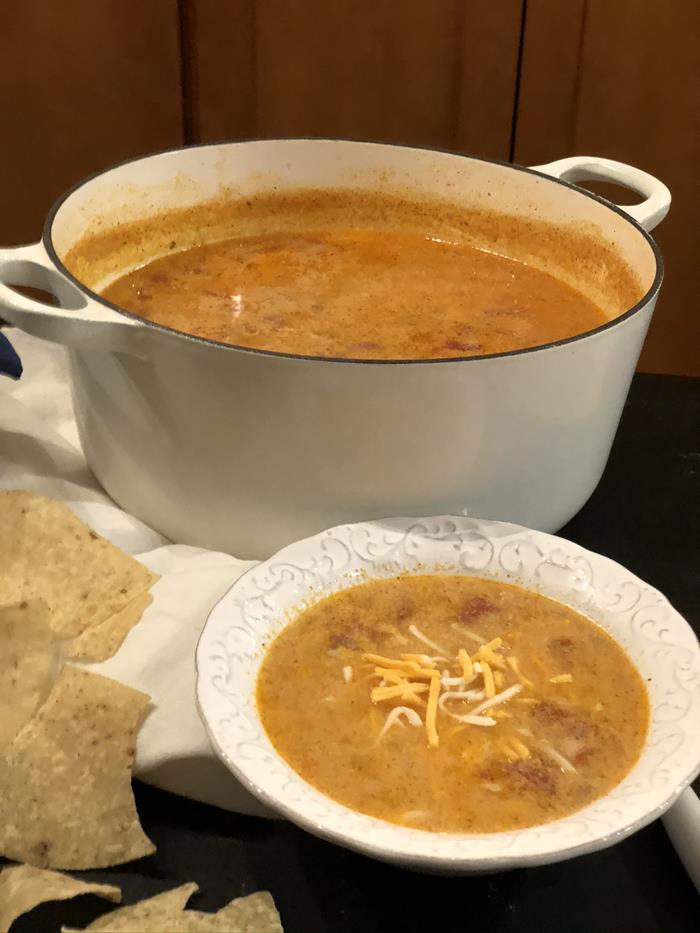 Most of the time it is because I am in a hurry when I take my photos. My recipes are the recipes that I make for our meals all the time.
This soup picture was taken at 6:30 on a busy weeknight. 6:30 in the winter means that it was dark outside and not the best lighting for photography.
It also means that by 6:30 my family is hungry and waiting for dinner.
As I am trying to get the best picture, they are patiently waiting for dinner, hoping that it doesn't get cold by the time that I am done.
Many of those photos end up in a folder on my computer waiting for me to take new photos. But I often don't get around to retaking them.
Life happens and often when I go to retake the recipes it is again 6:30 at night and my family is ready for dinner…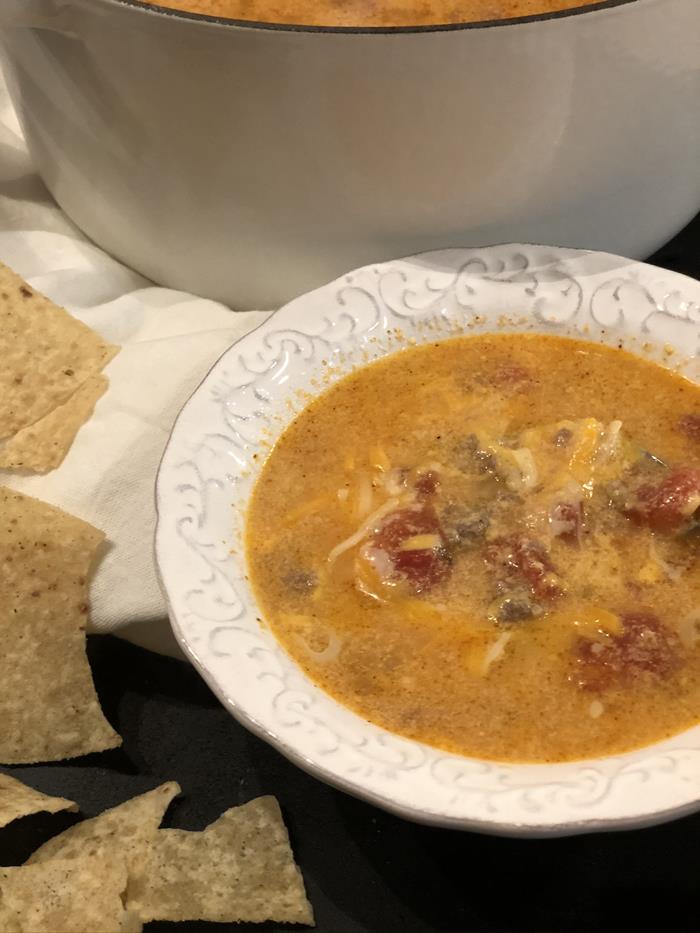 In 2020 I am going to change that. Great recipes with less than perfect photos will still get shared. Today is an example of that.
We love this cheesy beef enchilada soup. Well, my dairy free daughter doesn't eat it, but the rest of us love it.
It is easy to make with basic ingredients. You can serve it as is or with tortilla chips on the side. It isn't a pretty recipe and doesn't have a pretty photo, but it is an easy and delicious dinner.
This recipe is based on my Copy Cat Chicken Enchilada Soup. If you love chicken soup be sure to give it a try.
Yield: 12 servings
Cheesy Beef Enchilada Soup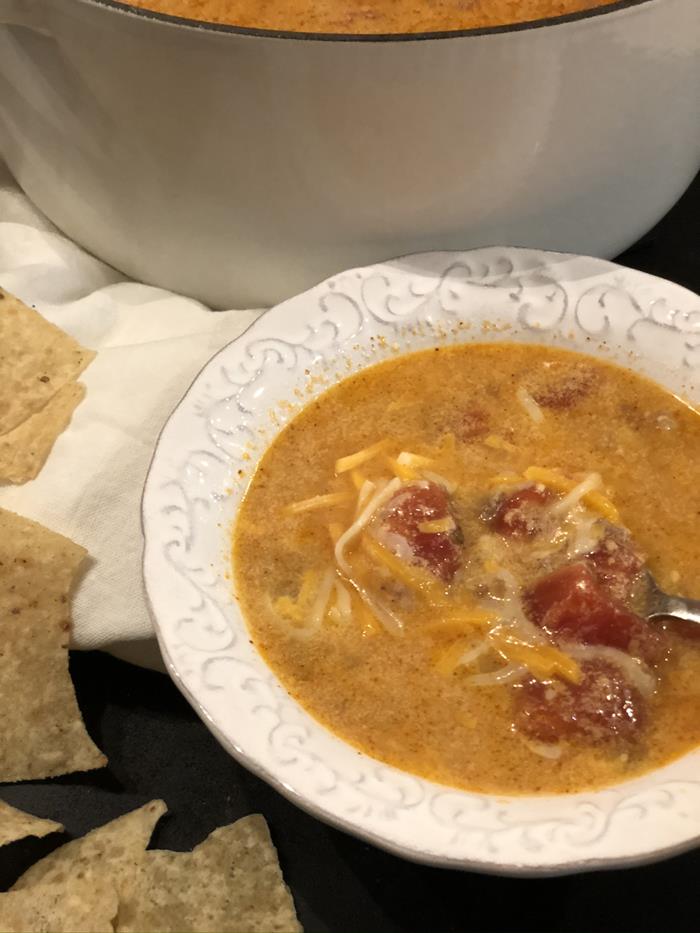 Cheesy Enchilada Beef Soup is a quick and easy dinner!
Ingredients
1 pound ground beef
1 onion, diced
1 clove garlic, minced
1/2 teaspoon cumin
1 teaspoon chili powder
2- 14.5 ounce cans beef broth
2 cups water
1- 10 ounce can enchilada sauce
1- 12 ounce can evaporated milk
1- 14.5 ounce can diced tomatoes
1/2 teaspoon salt
4 cups shredded cheddar cheese
Instructions
In a large pan cook ground beef and onion until beef is no longer pink and onion is tender. Drain off any fat.
Add garlic, cumin, and chili powder to meat and cook for 1 minute.
Add broth, water, enchilada sauce, tomatoes, evaporated milk, tomatoes, and salt. Cook on low, stirring occasionally, for about 20 minutes or until heated through.
Stir in cheese, stirring until melted.
Serve with chips, extra cheese, sour cream, or other desired toppings.
Notes
This soup is gluten free as long are you read labels to be sure that your ingredients are gluten free.
Nutrition Information:
Yield:
12
Serving Size:
1
Amount Per Serving:
Calories:

320
Total Fat:

22g
Saturated Fat:

11g
Trans Fat:

1g
Unsaturated Fat:

8g
Cholesterol:

80mg
Sodium:

802mg
Carbohydrates:

9g
Fiber:

1g
Sugar:

6g
Protein:

22g