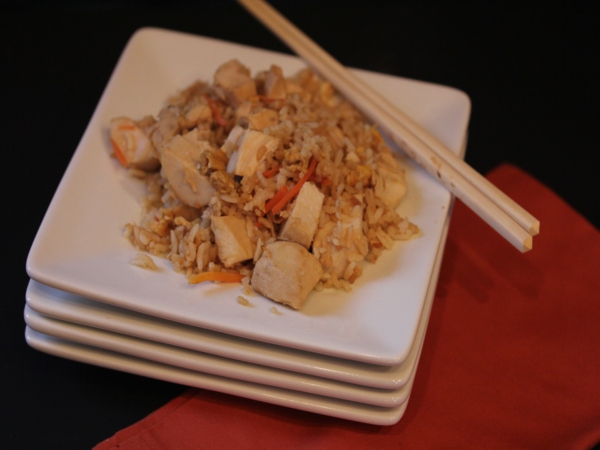 Fried rice is one of those quick, easy, and inexpensive meals that everyone should know how to cook.
Why is it a meal everyone should know how to cook? Because it is one of the best ways to use up leftovers. If you have a little bit of meat, a few veggies, and some rice sitting in your fridge needing to be used up, you can easily turn it into a meal by making fried rice.
Because I always think of fried rice as a leftover type meal, I usually use meat that has already been cooked in it. It is a great way to use up leftover steak, chicken, or pork. You can easily cook up the meat to use in fried rice, but I like to use what I have on hand and that is usually leftover meat.
The version of fried rice I am sharing with you today is chicken fried rice. I often have a little chicken left after grilling chicken breast or from buying a rotisserie chicken and it works great in this. Cooked chicken is also one of those things that I almost always have on hand in my freezer and it works well also.
Fried rice is also a great meal to serve during the summer because there is no need to turn on the oven for fried rice. This is an easy no heat up the kitchen, stove top meal.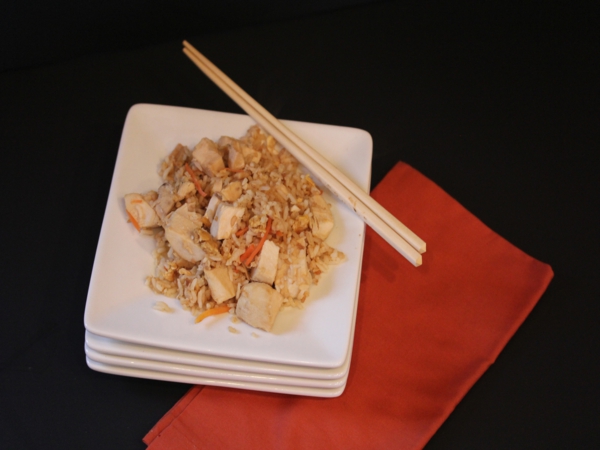 Yield: 4 servings
Chicken Fried Rice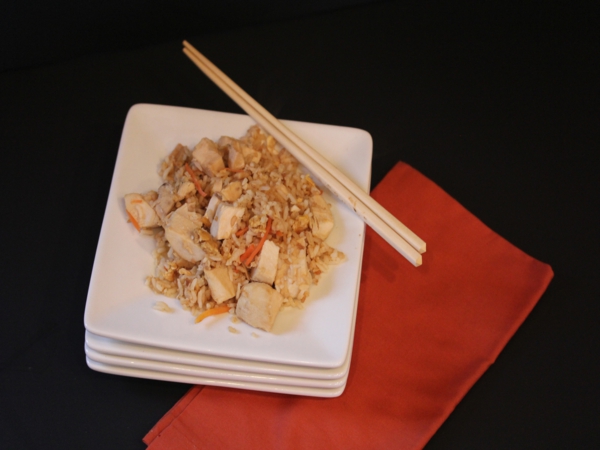 Chicken fried rice is a great way to use up those leftovers sitting in the fridge.
Ingredients
2 tablespoons oil
2 eggs
4 tablespoons soy sauce - use gluten free soy sauce for gluten free version
1 clove garlic, minced
2 cups cooked chicken, cut into bite sized pieces
2 carrots, shredded
½ cup frozen peas (optional, I do not like peas so I usually leave them out )
2 cups cooked rice
2 tablespoons rice vinegar
Instructions
Mix together 2 tablespoons of soy sauce with the eggs and beat well.
Heat 1 tablespoon of oil in a large skillet or wok.
Add egg to pan. Swirl and scrape egg to cook, basically, you are scrambling this, but do not over cook it. You want this to error on the side of not done because you will be adding this back to the pan later on.
Remove egg from pan and set aside.
Return pan to stove and add a little oil if needed.
Add chicken, garlic, carrots, peas, and rice to pan. Cook for 3-4 or until vegetables are tender and rice is starting to brown.
Add the egg back to the pan along with the remaining soy sauce and the rice vinegar. Let cook for 2-3 minutes more.
Add more soy sauce to taste.
Serve and enjoy!
Notes
If you are gluten-free use gluten-free soy sauce and read labels to make sure your ingredients are gluten-free.
Nutrition Information:
Yield:
4
Serving Size:
1
Amount Per Serving:
Calories:

386
Total Fat:

19g
Saturated Fat:

4g
Trans Fat:

0g
Unsaturated Fat:

13g
Cholesterol:

156mg
Sodium:

1208mg
Carbohydrates:

28g
Fiber:

2g
Sugar:

2g
Protein:

24g
Nutritional values are approximate and aren't always accurate.