If you miss biscuits and gravy since going gluten-free this gluten-free biscuits and gravy recipe is a must make!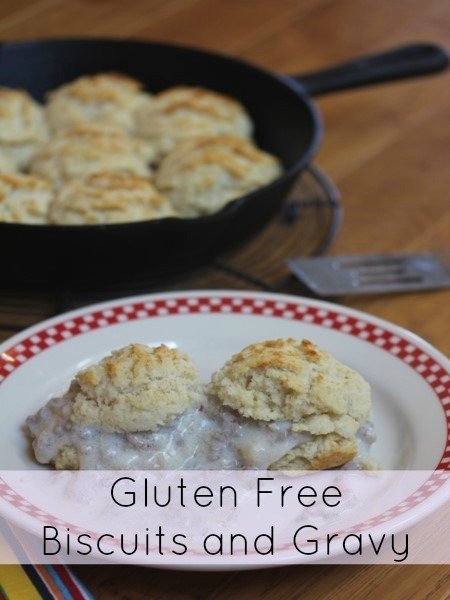 One of the hardest things about going gluten-free is missing so many of your favorite foods. Those comfort food-type recipes. The ones we have been making for years. The family recipes that our mothers and grandmothers have always made. The traditional and regional recipes have been handed down for generations.
The comfort foods we turn to when we are sick or celebrating a holiday. Or that recipe that makes you think of your neighbor when you were a kid. We all have recipes like that. Those recipes that we long to have again, but have not been able to get just right.
For my family, one of those recipes is biscuits and gravy. My husband and kids love them. They miss them. My husband remembers having biscuits and gravy often growing up. His mother and grandmother used to make them all the time. He missed them when we first went gluten-free.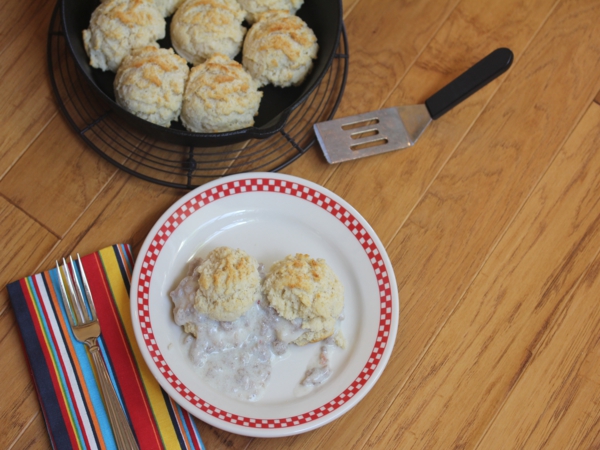 Now a side note about my family. We never ate biscuits and gravy growing up. Like really never. I grew up in Oregon, very far from the south, and the tradition of biscuits and gravy. The first time I had biscuits and gravy was when my husband and I were dating. When I told his mother that I had never had biscuits and gravy, she immediately set to work on fixing that and served them to me.
The first few times I had them I was not overly impressed, but I have grown to really enjoy them. And I quickly learned why biscuits and gravy are so popular. They are a really easy and inexpensive meal to serve. After I got married I served them quite often because they were a very cheap meal to serve that my husband loved.
You can easily take just a little sausage meat and make it stretch by using it in biscuits and gravy. And you can even use just some bacon grease to flavor it and make it even cheaper meatless.
Biscuits and gravy ended up on our menu often and I really did miss them when we went gluten-free. And since my husband and kids really missed them too, I knew I had to figure out how to make them gluten-free.
I have both a gluten-free biscuit recipe and a gluten-free sausage gravy recipe on my site, but I recently realized that I have never posted a gluten-free biscuit and gravy recipe. And yes it is pretty easy to just find a gluten-free biscuit recipe and a gluten-free gravy recipe and serve them together, but I wanted to be sure to share the recipes I used to make a meal of gluten-free biscuits and gravy.
So here is how we eat gluten-free biscuits and gravy.
I take my basic gluten-free drop biscuit and we cover it in my gluten-free sausage gravy.
Yes, it is that easy, but it is so good.
And it makes for a really easy gluten-free breakfast, lunch, or dinner. This is a meal you can serve anytime. It is gluten-free comfort food at its best!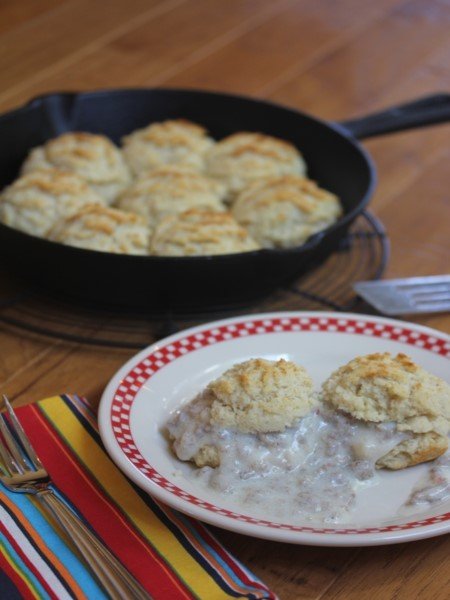 Yield: 8 servings
Gluten Free Biscuits and Gravy Recipe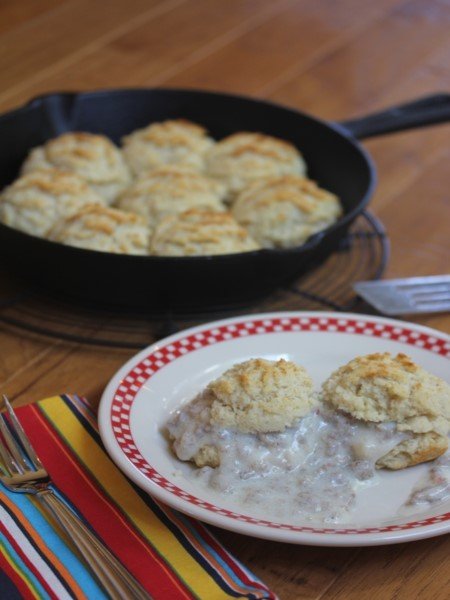 Light and fluffy drop biscuits and rich and creamy gravy with this gluten-free biscuits and gravy recipe.
Ingredients
Gluten Free Biscuits
1 1/2 cup brown rice flour
1/2 cup potato starch
1/4 cup tapioca flour
1/2 teaspoon xanthan gum
1 tablespoon baking powder
1/2 teaspoon cream of tartar
2 teaspoons sugar
1/4 teaspoon salt
1/4 teaspoon baking soda
1/2 cup butter
1 1/4 cup buttermilk
Gluten Free Sausage Gravy
1 lb package sausage (be sure to use gf sausage)
1 tablespoon butter (more if your sausage is really lean)
3 tablespoons potato starch
3 cups milk
salt and pepper to taste
Instructions
In a large bowl combine brown rice flour, potato starch, tapioca flour, xanthan gum, baking powder, sugar, salt, cream of tartar, and baking soda.
Cut butter into small chunks and cut into flour mixture until butter is mixed in and about pea sized.
Stir in buttermilk until combined. Be careful not to over mix. You want it well mixed, but not over mixed.
Drop onto a cast iron skillet or cookie sheet. This makes about 10 biscuits.
Bake at 450 for 15-18 minutes or until biscuits are done.
While biscuits are baking make the gravy.
Place sausage in a large skillet. Cook over medium-high heat until evenly brown.
Remove sausage with a slotted spoon, leaving the drippings in the pan. Stir in the butter until melted.
Reduce heat to medium and add potato starch. Stir for about 1 minute.
Gradually whisk in milk, and cook until thickened.
Season with salt and pepper, and stir in cooked sausage.
Reduce heat, and simmer for a few more minutes or until it is the desired consistency. If gravy becomes too thick, stir in a little more milk.
Serve over biscuits.
Nutrition Information:
Yield:
8 servings
Serving Size:
1
Amount Per Serving:
Calories:

538
Total Fat:

32g
Saturated Fat:

15g
Trans Fat:

1g
Unsaturated Fat:

14g
Cholesterol:

78mg
Sodium:

1029mg
Carbohydrates:

48g
Fiber:

2g
Sugar:

4g
Protein:

15g
Nutritional values are approxomite and aren't always accurate.