Love chicken pot pie? Then you will love Chicken Pot Pie Soup. This is a great comfort food for fall and winter.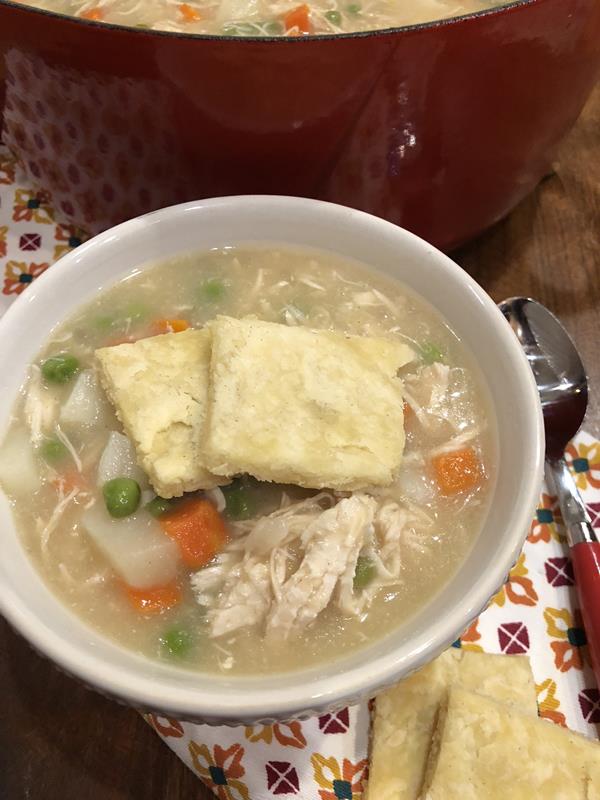 Several people in my family love chicken pot pie. I can see why because it is a great comfort food meal.
It is also a meal in one. It contains meat, protein, and vegetables all in one delicious pie.
But it can be a pain to make. Just keeping it real. Homemade chicken pot pie is not an everyday quick and easy dinner. It just isn't.
So how can you make chicken pot pie quick and easy? You serve it in soup form!
Chicken pot pie soup makes chicken pot pie quick and easy.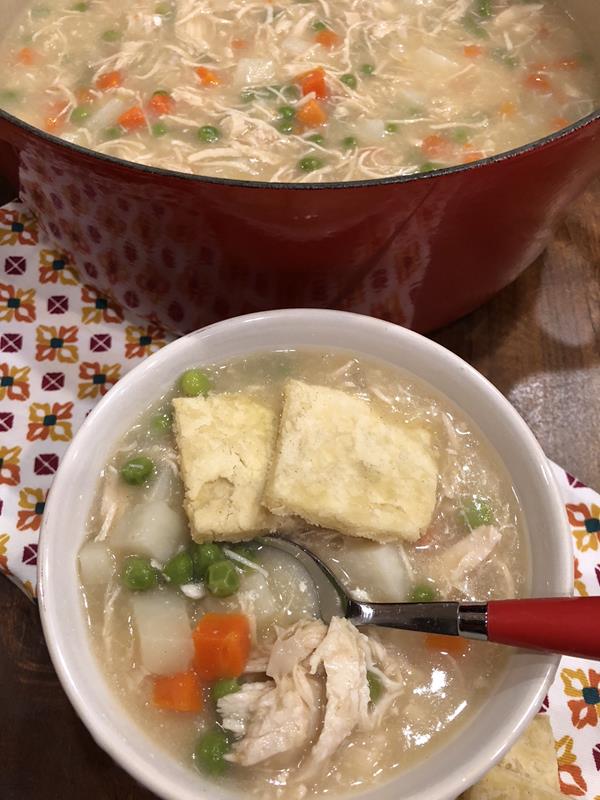 Chicken pot pie soup is all the flavors of chicken pot pie in the form of soup.
I was explaining it to my mom and I said, basically it is chicken pot pie with lots of liquid. That pretty much sums it up. You put all the ingredients of chicken pot pie in this soup, but you add more liquid.
The part that makes this easy is that it doesn't have a crust. You can serve it with little bits of pie crust like I did or with biscuits, but for an easy everyday meal I would just serve this as is.
The main reason I used the crust was for pictures and because I have been working on getting the perfect gluten free pie crust recipe and I had a lot of extra crust.
I just took some homemade pie crust scraps and baked them on a cookie sheet until firm and slightly crisp. You could easily do this with store bought pie crust in order to keep it really simple.
The recipe calls for chicken, but would could just as easily use leftover turkey in place of the chicken and turkey stock in place of the chicken broth. It would be delicious that way and a great way to use up leftover turkey.
Normally I would put corn in this, but I forgot to add it the day I took pictures. I actually didn't realize I forgot the corn until I was in the middle of taking pictures. So I guess the corn is optional. 🙂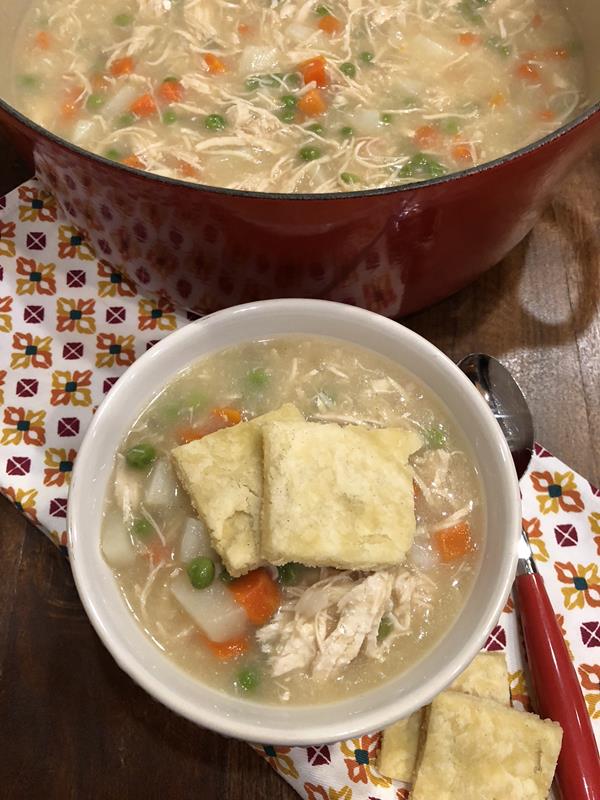 Chicken Pot Pie Soup
If you love pot chicken pot pie you will love this chicken pot pie soup.
Ingredients
1 tablespoon butter
2 tablespoons oil
2 cups peeled and cubed potatoes
1 onion diced
1/3 cup flour ( I use gluten free flour blend)
1/2 teaspoon salt
1/4 teaspoon pepper
3 cans (14.5 ounce) chicken broth
2- 3 cups cooked and shredded chicken
2 cups frozen peas and carrot blend
1 cup frozen corn (optional)
cooked pie crust pieces (optional but good)
Instructions
In a large pan heat oil and butter.
Add onion and potatoes and cook until onion is tender and lightly browned.
Stir in flour, salt, and pepper until blended. Be careful that the heat is not too high or it will burn.
Add broth and stir until smooth.
Bring to a boil stirring constantly.
Reduce heat and simmer for 8-10 minutes. Stirring often.
Add frozen vegetables and cooked chicken.
Cook over low heat stirring occasionally for 4-5 minutes or until heated through and potatoes and vegetables are tender.
Serve with pie crust pieces if desired.