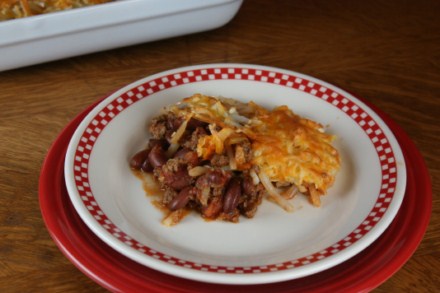 I have talked many times about how much I love to cook once and eat twice. It saves me so much time and money in the kitchen.
One of my favorite dishes to fix once and eat two or three times is chili. It is so easy to fix a double or triple batch of chili and use the leftovers in several meals.
This Chili Cheese and Potato Bake is a perfect example of how leftover chili can be used in so many ways.
And yes I choose the easy way and used frozen hash browns. Sometimes you just need a few shortcuts.
Chili Cheese Potato Bake
4-6 cups of leftover chili ( any chili will work here)
frozen shredded hash browns , I do not really measure this but it is about 3-4 cups
1 cup shredded cheddar cheese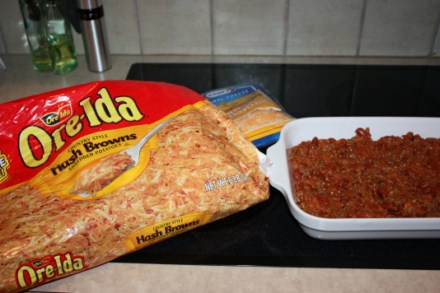 Spread Chili into a 9×11 or 9×13 pan.
Spread hash browns over chili. Then sprinkle cheese over potatoes.
Bake uncovered at 375 for 40-50 minutes or until done.
Serve and enjoy!
This post linked to Mouth Watering Mondays and $5 Dinners.