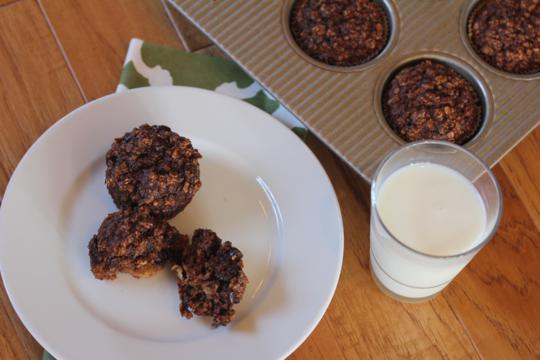 This is one of those recipes that I could not decide where to share it. It is a great breakfast for anyone, but it is also so simple to make gluten free.
I really struggle with gluten free breakfasts, especially quick and easy ones. My sister and I have talked about this many times. Breakfast can be the hardest meal to deal with when it comes to food issues. So, I decided that since these are a fun quick and easy breakfast that are freezer friendly, and they are gluten free, I would share them here in the allergy section.
Make a big batch of these and stick them in the freezer and your kids will love it. These work great for busy mornings and lunchbox treats.
Chocolate Banana Oatmeal Breakfast Muffins
3 cups oats, I use gluten free oats

1/2 cup brown sugar

1 cup milk

2 tablespoons butter, melted

2 eggs

2 teaspoons baking powder

3/4 teaspoons salt

2 teaspoons vanilla

3 bananas mashed

1/4 cup baking cocoa

3/4 cup chocolate chips
In a large bowl combine all ingredients except chocolate chips.

Stir well until combined.

Stir in chocolate chips.

Scoop into greased or lined muffin tin. This makes about 18 muffins.

Bake at 350 for 15-18 minutes.