Chocolate Chip Bread is a dessert or snack your kids are sure to love! Let's just keep it real. Everyone will love this chocolate chip bread. It is a treat big and little kids will enjoy.
Quick breads are great because they make a delicious snack, dessert, or even special breakfast treat.
I have made various versions this bread for years, but I recently realized that I had never shared one with you. I knew I needed to fix that by sharing my favorite chocolate chip bread.
And not only am I sharing my recipe, I am also sharing how I make it gluten free. The gluten free chocolate chip bread is so good. No one will know that it is gluten free!
What exactly is chocolate chip bread?
This bread is a quick bread. It a cross between a cake and a muffin baked in a loaf pan. It is more of a dessert or snack, but my kids have been known to eat it for breakfast. Although it is definitely more of a special treat breakfast.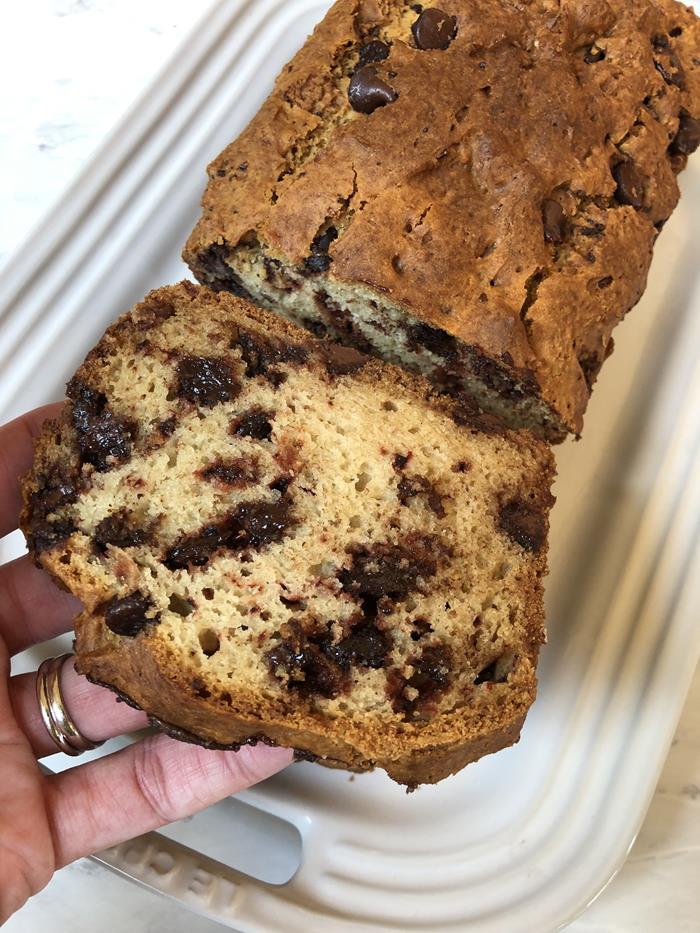 Can I make this gluten free?
Yes, this bread is delicious gluten free. In fact the gluten free version is so good that no one will know that it is gluten free.
Can chocolate chip bread be made ahead?
Yes, this is a great recipe to make ahead because it freezes great. If you keep desserts like this in the freezer you can have an easy dessert anytime.
Just make the bread as directed, let it cool completely, wrap it up well, and freeze it. You can also slice the bread and freeze one or two pieces per package. You can then take it out for lunches or snacks.
Need more quick bread recipes? Try one of our favorites.
Now for the recipe!
Yield: 1 loaf
Chocolate Chip Bread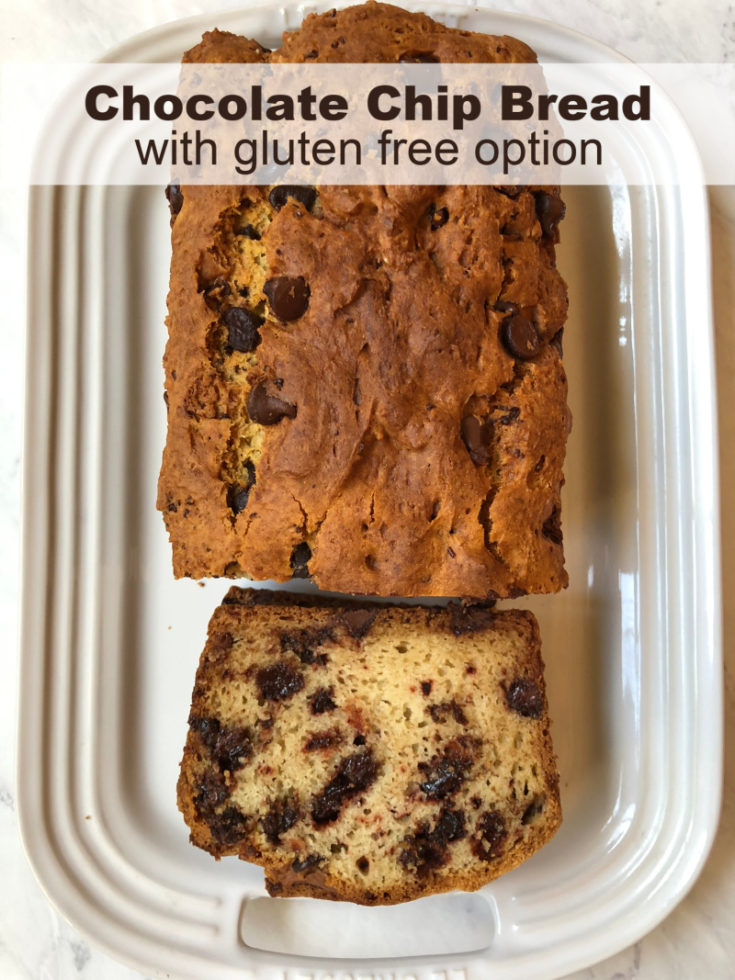 Chocolate Chip Bread is a quick and easy dessert or snack you are sure to love.
Total Time
1 hour
5 minutes
Ingredients
1/2 cup sugar
2 cups flour (for gluten free version use Bob's Red Mill 1 to 1 gf flour blend)
1/2 teaspoon baking powder
1 1/2 teaspoons baking soda
1/2 teaspoon salt
1 egg
1 cup buttermilk
1/3 cup oil
1 cup chocolate chips
Instructions
Preheat oven to 350 degrees.
Grease a loaf pan and set aside.
In a bowl combine flour, sugar, baking powder, baking soda, and salt.
In another bowl stir together eggs, milk, and oil.
Stir in flour mixture just until combined.
Stir in chocolate chips.
Spread batter into loaf pan.
Bake for 55- 60 minutes or until tooth pick inserted into the center comes out clean.
Let cook in pan 5 minutes. Remove to wire rack to finish cooling.
Notes
To make gluten free use Bob's Red Mill 1 to 1 gluten free flour blend. Other gf blends may work, but I have only tried this with Bob's Red Mill Blend. Also be sure the your chocolate chips are gluten free.