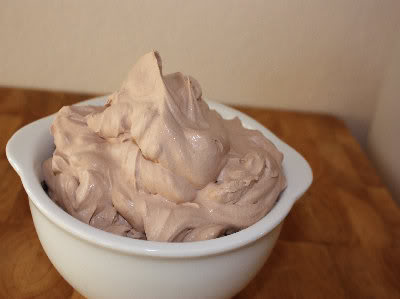 I have been making homemade chocolate whipped cream for years. It is so good and it can be used for many different things. Now this is not the healthiest thing to serve, but for a special treat during the holidays this is great.
I used this for the dessert that I made for Thanksgiving. I made extra so that we could have some to serve in my Tres Leches Hot Cocoa. Everyone really enjoyed it when I served that way. Some even used it in their coffee, which they thought was really good.
This would be easy to make up and serve with coffee and hot chocolate during the holidays.
I have used this on Angel Food Cake and served it with berries. I have used this as a type of frosting on several cakes. It also makes a great topping for pudding pies.
No matter what you use this for it will be good.
Chocolate Whipped Cream
Ingredients
3 cups




of whipped cream

1 cup




powdered sugar

1/2 cup




baking cocoa
Cooking Directions
Sift powdered sugar and cocoa. You must sift this to avoid lumps in the whipped cream.
Whip cream in a mixer on medium speed for about 1 minute.
Then slowly add sugar/cocoa mixture to whipped cream about 2 tablespoons at a time until the whipped cream is whipped well.
Do not over whip or you will have chocolate butter.