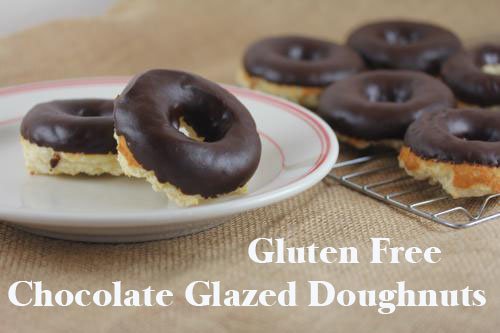 Doughnuts are one of those foods that have made me cry. Yes, I will admit that since going gluten free I have cried because I wanted a doughnut so badly. It was one of those days where gluten free just became too much and I fell apart over my craving for a doughnut. Yes, yes I did.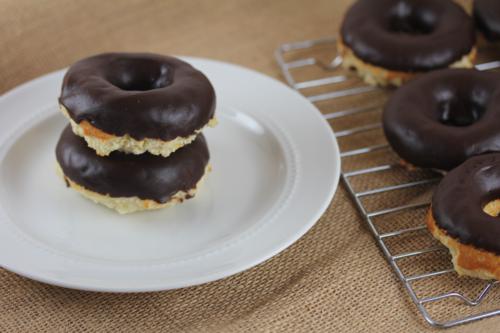 Stress, hunger, lack of sleep, a busy schedule, and driving past the Krispy Creme sign flashing hot doughnuts, can do that to a person.
Thankfully I did not give in to that doughnut craving. I had a good cry and went about my day because I knew what that doughnut would do to me. And instead of giving in it pushed me on to keep trying for that perfect gluten free homemade doughnut.
Now, I am not sure I will ever come up with a homemade doughnut as good as a Krispy Creme, but I am on a mission to recreate some of our favorite doughnuts at home. They may not be quite the same, but it will satisfy those occasional doughnut cravings we all get. Or am I the only one that misses doughnuts? Please tell me I am not the only one.
A few weeks ago I shared a simple gluten free doughnut that used a cake mix. It is quick and easy and really good, but I know that not everyone keeps gluten free cake mixes on hand. Plus, they can be a bit expensive. So today I am sharing with you a simple homemade cake style doughnut that uses basic gluten free ingredients that most of you should already have.
Add on the chocolate glaze that is easy to make and you will have a gluten free treat that your family will love!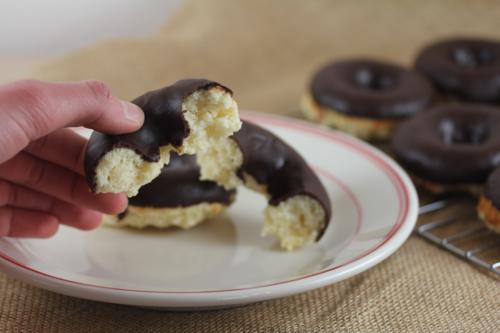 Yield: 12 doughnuts
Chocolate Glazed Gluten Free Doughnuts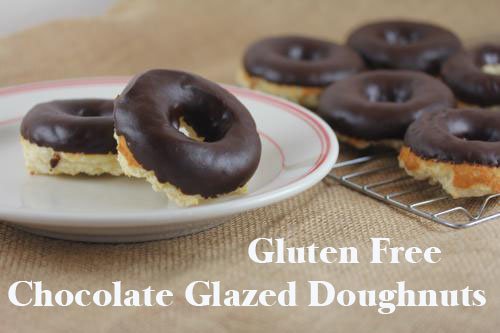 A gluten free treat that kids and adults will love.
Ingredients
1 1/3 cups rice flour
1/3 cup potato starch
1/3 cup cornstarch
1/2 teaspoon xanthan gum
3/4 cup sugar
2 teaspoons baking powder
1 teaspoon salt
3/4 cup buttermilk
2 eggs
1 teaspoon vanilla
Glaze
1/2 cup gluten free chocolate chips
2 tablespoons butter
2 tablespoons corn syrup
1 teaspoon water
Instructions
Preheat oven to 425 degrees. Lightly spray doughnut pan and set aside.
In a large bowl mix together rice flour, potato starch, cornstarch, xanthan gum, sugar, baking powder, and salt.
In a small bowl combine buttermilk, eggs, and vanilla. Stir into dry ingredients and mix until combined.
Spoon batter into doughnut pans.
Bake 8-10 minutes or until doughnut springs back when touched.
Let cool and then glaze.
Glaze
In a small microwave safe bowl combine chocolate chips, butter, and corn syrup. Microwave on 50% power for 30 seconds, stir, and repeat until chocolate is melted.
Dip doughnuts into chocolate and let sit until the chocolate starts to set.
Serve and enjoy!
Nutrition Information:
Yield:
12
Serving Size:
1
Amount Per Serving:
Calories:

227
Total Fat:

5g
Saturated Fat:

3g
Trans Fat:

0g
Unsaturated Fat:

2g
Cholesterol:

37mg
Sodium:

320mg
Carbohydrates:

43g
Fiber:

1g
Sugar:

20g
Protein:

3g
Nutritional values are approximate and aren't always accurate.