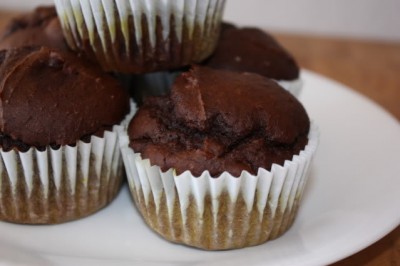 As you probably know by now, my family loves muffins and I love trying new muffin recipes. We eat muffins at least once a week. So, I like to find new and interesting recipes. I know chocolate and pumpkin may sound like an interesting and strange combination, but it is really good. My kids loved these and kids are some of the pickiest eaters.
I can't exactly call these healthy because they contain a cake mix. In general I have been staying away from cake mixes, but something about this recipe made me really want to try it. I wanted to make something to give the kids for a dessert/snack the other day. I had a chocolate cake mix in my pantry, so I decided  it was a good time to give these a try.
These are not really healthy, but they are not exactly unhealthy either. These are a bit cake like because they are made from a cake mix, but these do not contain oil or butter like most cakes would. These only contain a few ingredients, so they are easy to put together.

Chocolate Pumpkin Chocolate Chip Muffins
1 chocolate cake mix ( I used devils food, the original recipe called for german chocolate)
1 can (15 ounces) pumpkin
2 eggs
1 teaspoon vanilla
1 teaspoon cinnamon
1 cup chocolate chips
Preheat oven to 350 degrees. Mix together cake mix, pumpkin, eggs, vanilla, and cinnamon. Mix together well and then stir in chocolate chips. Spoon batter into muffin pan lined with papers. Bake for 20-22 minutes or until they test done.

Adapted from the Cake Mix Doctor.
For more baked goods recipes see Life As Mom. Also linked to Foodie Fridays.