I like chicken and rice dishes, but many of them are the same basic recipe. I like them, but they were getting a bit boring for me. I wanted something with a little more flavor and kick. I wanted something different.
I thought something with a spicy Mexican type flavor would be good. I wanted something we could eat just as a chicken and rice type dish, but I also wanted it to be a something I could serve with tortillas and beans if I wanted too. What I came up with works for both.
This has great flavor. It was a bit spicy for several in my family, so they added a little sour cream to theirs. My husband thought it could be a little spicier. So, if you like food spicy, add a little more chipotle chili to it.
This dish is a pretty frugal meal. You can easily make this stretch into two meals. Make extra and serve it the first night as chicken and rice, add a salad or vegetable and you have a meal. Then the second night, use the leftovers served with beans and tortillas, lettuce, cheese, etc. I plan on using this as two meals the next time I make it.

Spicy Chipotle Chicken and Rice
3 or 4 boneless skinless chicken breast (you could use another cut of chicken also just adjust the cooking time)
1-2 tablespoon of oil
1 onion chopped
3 cloves of garlic, mined
½ teaspoon cumin
1  chipotle chili in adobo sauce pepper, minced finely (this is one chili, not one can of chilies )
28 ounces of diced tomatoes
1 ½ cups of long grain white rice
1 ½ cups of water
Cook onion in oil until tender. Add garlic, cumin, chipotle pepper, and cook for 1-2 minutes. You are just releasing some of the flavor here, not really cooking it. Add tomatoes, water, and rice. Pour into a 9×13 or equivalent pan.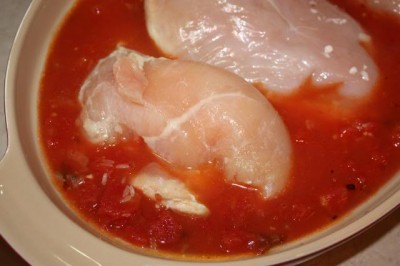 Lay chicken breasts on top of tomato, rice mixture. Cover with foil and bake at 350 for 45-50 minutes. Remove foil and cook 5-10 minutes more or until rice is done. The cooking time may vary on the depending on the size of chicken pieces that you use. This takes about 1 hour for me.

For more recipes and ideas see
Frugal Fridays
,
Grocery Cart Challenge
, and Friday Food.