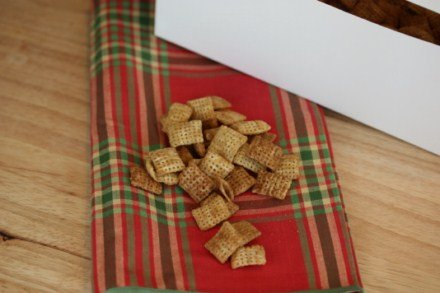 Chex mix is a classic holiday snack that has been around for years. There are many different versions of it, but I prefer the sweet versions like muddy buddies, lemon buddies, snow buddies, and today's cinnamon sugar chex mix.
What I love about chex mix is that it makes the perfect gift to give away. You can easily make up a few different kinds of chex mixes and place them in a nice gift bag or box to give away.
A simple and easy gift that anyone would enjoy!
Cinnamon Sugar Chex Mix
¼ cup brown sugar
1 teaspoons cinnamon
¼ cup butter, melted
2 teaspoons vanilla
3 cups Cinnamon Chex Cereal
3 cups Rice Chex Cereal
In a small bowl mix brown sugar and cinnamon. Set aside.
Stir vanilla into melted butter.
In a large bowl combine cereals. Pour butter and cinnamon sugar mixture over the cereal until evenly combined.
Microwave entire mixture for 3-4 minutes or utnil it just starts to brown. Stir once while cooking.
Spread on a cookie sheet to cool and then store in an airtight container or bag.
Serve and enjoy!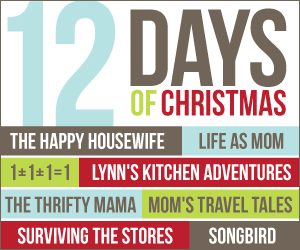 For more great Christmas ideas please visit the other bloggers joining me on this series.
Christmas Homeschool Fun: 1+1+1=1
Christmas Decorations: Songbird
Tips for a Healthy Holiday: The Thrifty Mama
Saving Money: Surviving the Stores
Travel Tips: Mom's Travel Tales
Christmas Family Fun: Life as Mom
Homemade Christmas Gifts: The Happy Housewife