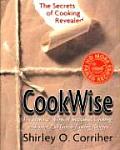 I love the science behind cooking. There is so much science behind cooking that we do not realize.
Last week my husband and I attended a lecture given by Shirley O Corriher. She is the author of CookWise
and BakeWise
and is also the food scientist from the Alton Brown show.
We both really enjoyed her talk. She was very informative and funny.
My husband who usually has no interest in cooking, but does love chemistry, found it very interesting. Chemistry was his under graduate major and she explained cooking in a way he could relate. She covered way more than the general hows and whys of cooking, she covered the details of the chemistry behind the food.
Now I know not everyone enjoys knowing the hows and whys of cooking or cares about the chemical nature of the foods we eat, but if you do, I think you will love Shirley Corriher.
After hearing her talk and realizing how knowledgeable she is I can't wait to get her cookbooks. I will definitely being saving my Swagbucks to buy both CookWise and BakeWise.
Is anyone else familiar with Shirley Corriher or her books?