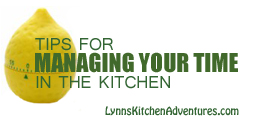 It has been a few weeks since I posted on managing your time in the kitchen. I am enjoying doing this series and I have a few more topics that I hope to cover over the next few weeks. I have really appreciated the tips and thoughts you have left as comments in this series, so thank you.
If you are new to this series you can find my other tips for managing your time here.
Today's topic is valuing your time while grocery shopping.
When it comes to grocery shopping I think we need to not only look at the money we are spending, but we also need to look at the time we are spending.
We need to value our time.
I am not saying that you should throw out the budget and buy whatever you want, but I think it pays to step back and take a look at where we are putting both our time and our money.
When we lived in the city I had at least five grocery stores within five miles of my house. At the time we were living on a very limited income and we had a very small budget for groceries. It was worth it for me to shop multiple stores in order to get the best deal.
I currently live in the country, near a town with very little shopping options. I do most of my grocery shopping 20- 25 minutes away. It is no longer a quick run to the store, it takes me all afternoon and I don't always have an afternoon each week to spend shopping. It usually not practical for me to go to multiple stores each week in order to shop sales. The amount I save is usually not worth the extra gas and time.
Because of this I have totally switched the way I shop. I now do a once a month shopping trip to Sam's Club, a larger Wal-mart, and a few other stores. Then during the rest of the month I buy the things that we need like milk, eggs, produce, etc. locally. I only shop sales if I am going to be near that store on another errand or trip.
Shopping this way has saved me so much time and it works well with the stage of life I am in right now.
My way of shopping may not work for. You may live near a lot of stores and be on a very tight budget. It may be worth the time you spend grocery shopping, but it may not.
I encourage you to occasionally step back and evaluate how you are spending your time and see if it is worth it. Factor in the extra gas and the time each trip costs you. Figure out what your time is worth to you and what it is costing you.
My point is that you may need to occasionally adjust the way you shop depending on the stage of life you are in. At certain times in our life saving time is worth more than saving a few dollars.
What are your thoughts? How much of a savings is worth your time?