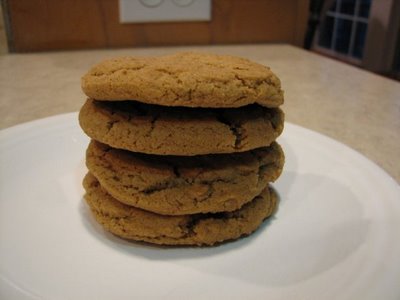 This is how molasses cookies are supposed to look.
My daughter and I made molasses cookies or should I say we tried to make molasses cookies, the other day. We were working on them together and were enjoying making them. We were even playing around a little. We were having fun, but not paying attention.
When I took the first batch of cookies out of the the oven they did not look like the picture above. They had run all over the pan and were not getting done. I couldn't figure out what was wrong. My daughter and I looked over the recipe and realized that we had left something out. That something was baking soda. A very important ingredient.
This is one of the problems with cooking with kids or with one or more people working on the same dish. You think they put something in, and they think you did. In the end it never gets put in.
We ate the cookies. They were not great, but they were edible. We did have a fun afternoon and I am glad we made them. But my tip is pay attention when cooking with kids.
It is easy to get distracted and forget something. It is really important when cooking with kids that you check over the recipe with the kid/kids that are helping to make sure that all the ingredients got put in. This will insure much better results.