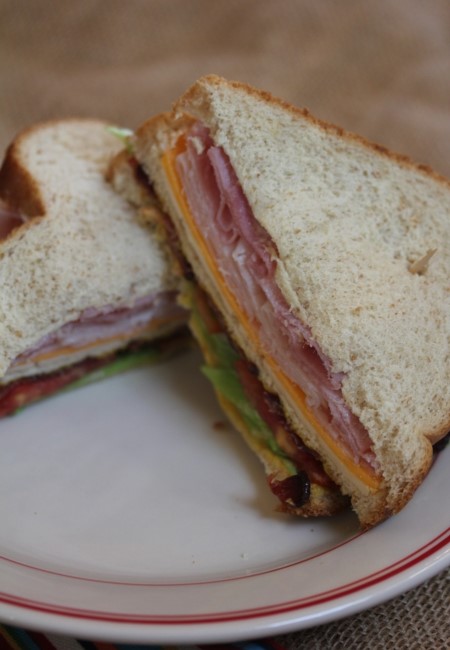 Copycat recipes are one of my favorite things to share with you all. I love recreating our favorite restaurant foods at home. The homemade versions are usually cheaper and healthier than what I can buy at the store or when eating out.
Over the years I have shared quite a few copycat and homemade favorites with you. I will admit though that a club sandwich was not high on my list to recreate until recently.
Over the last year my son has developed a love of club sandwiches. There is a local, or maybe more regional, restaurant in our area called McAlisters Deli. We love eating at McAlisters.
We don't eat out often. We never have really eaten out much, but with all our food issues over the last few years, eating out has become even more rare for us.
When we do eat out though McAlisters is high on the list of places we go. And this is mainly because they have a gluten free menu that includes the best baked potatoes. These aren't just any baked potato. They pile them high with all kinds of toppings. Their baked potatoes are a meal by themselves and my girls and I love them.
But I can't forget about my husband and son. They put up with so much when it comes to all our food issues, so I love being able to go out to eat at places they enjoy as well. And they love McAlisters sandwiches.
My son especially loves McAlisters Club Sandwich. It is pretty much the only sandwich he orders there. Every time it is the same thing. To me a club sandwich is pretty much a club sandwich. Nothing special. But my son obviously disagrees.
One day when we were eating there I asked him what he loved so much about the club sandwich and he replied that he loved how big it was and how much there was on it.
And that is where I began to realize what he loved about the sandwich at McAlisters.
Yes, the meat is delicious. It is has specially smoked bacon, ham, and turkey on it. But we are talking about a 12 year old boy here and that is not what he was interested in. He loved the size of the sandwich.
I have to admit I can see why. The sandwiches I normally make at home look pathetic compared to a deli style sandwich. I mean really who puts that much meat and cheese on a normal everyday sandwich. I make that package of lunch meat stretch for as many sandwiches as I can. Please tell me I am not the only one that does that. 🙂
But when I realized what my son loved about the McAlister Club sandwich, I knew I could easily recreate it at home. And really it would work great for an occasional quick and easy dinner.
So I got to work on making a homemade copycat version of McAlister's Club sandwich.
The recipe below is not so much a recipe. It is more just a list of ingredients I used and the order I layered them in. Because according to my son the order of the layers matter. 🙂 Don't forget to pile it high with meat. That is the whole point of the sandwich after all. And yes this had three pieces of bread per sandwich, just like McAlister's.
Yield: 4 sandwiches
Copycat McAlister's Club Sandwich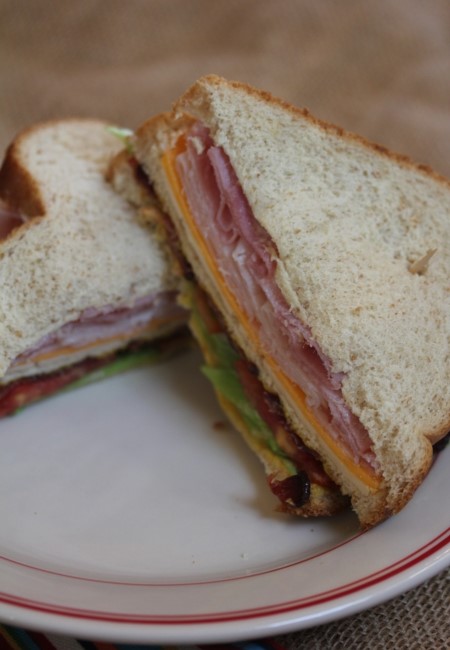 A deli style sandwich made at home!
Ingredients
12 slices bread
2 tablespoons honey mustard (I made my own by mixing about 1/3 honey to 2/3 mustard, but you could easily use store bought honey mustard )
4 pieces of lettuce
1 tomato sliced tomato
8 slices cooked bacon
more honey mustard
bread
4 slices swiss cheese
4 slices cheddar cheese
8 ounces smoked turkey ( or about that much)
4 slices ham ( or about that much )
3 tablespoons mayonnaise
Instructions
Spread mustard on one slice of bread.
Layer lettuce, tomato, and bacon on top.
Spread mustard on another slice of bread and place on top of bacon.
On top of that slice of bread place swiss cheese. Then cheddar cheese. Then place turkey and ham on top of that.
Spread mayonnaise on the last slice of bread and place on sandwich.
And enjoy!