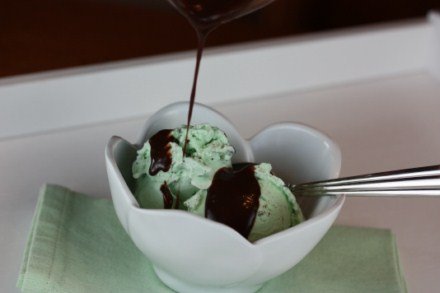 What is not to like about hot fudge sauce? Especially during the summer and all the triple digit weather that some of us have been experiencing.
I have several different hot fudge sauces that I make, but this recipe adapted from Carnation Evaporate Milk is a favorite of ours.
Pour it over a bowl of ice cream and you have a wonderful summertime treat.
Creamy Hot Fudge Sauce
1- 12 ounce can of evaporated milk
1/2 cup sugar
2 tablespoons butter
2 tablespoons corn syrup
2 cups chocolate chips
2 teaspoons vanilla
In a pan combine evaporated milk, sugar, butter, and corn syrup.
Cook on medium heat until mixture comes to a boil. Stir constantly and reduce heat to low. Cook on low for 3 minutes.
Remove from heat. Stir in morsels and vanilla extract. Stir until chips are melted and mixture is thickened.
Serve over ice cream. Store any leftovers in the refrigerator.