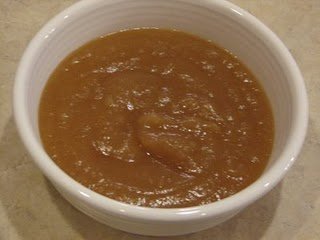 I have read on several sites about cooking applesauce in the crockpot. They all said ahow good and easy it was. I have had a lot of apples this year, so I decided to give it a try. I took the tips from several recipes and came up with my own. It is not an exact recipe. You can vary it depending on how sweet you like it. We like ours sweet and we like ours smooth. Make it how you like it and to your taste.
Here is what I did.
I filled my crockpot up with peeled and sliced apples. I used 1/2 tart,either Granny Smith or Jonathan,and the other 1/2 Red or Golden Delicious. I added 1/2 cup brown sugar. I like the way the brown sugar tastes in applesauce. I also added about 2 teaspoons cinnamon, 1 tablespoon lemon juice, to help it from turning brownn, and 1 teaspoon vanilla. Cook on low for 5-6 hours or on high for 3-4. It took 3 hours on high in my crockpot. If you like your applesauce chunky, mash with a potato masher. If you like it very smooth,puree in blender.
This is really good warm. We also like it the next day. I have been freezing a lot of it to use over the next few months.