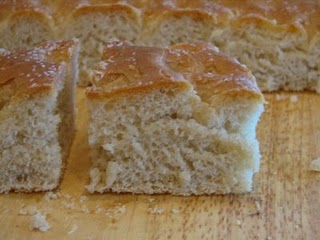 This recipe came from my mother-in-law. She has been making it for years. When we got married, I knew this was one recipe that I had to learn to make, and learn to make well. I was so glad that it was an easy recipe to learn. I have made it many times since then. We really like this recipe. It works great with Italian style meals like spaghetti or lasagna. The leftovers make great sandwiches.
This bread recipe works for me. And for more great bread recipes see the Bread Round Up.
Foccaccia
1 Tablespoon yeast
2/3 cup water
2 cups water
1 tablespoons salt
5-6 cups of flour
course salt like kosher or sea salt – optional
In a small bowl, dissolve yeast in 2/3 cup of water. Stir to dissolve. In a large bowl, mix 2 cups water, yeast mixture, 4 cups flour, and salt. Stir until all combined and knead in remaining flour until smooth and not sticky. I use my Kitchen Aid mixer, but my mother in law has made it by hand for years. Knead until it forms a nice smooth dough, about 5 minutes. Put dough in a greased jelly roll style pan.
Let rise for about 2 hours, or until doubled. Sometimes this takes 3 or so hours.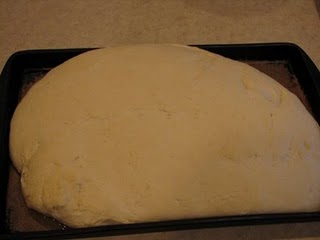 Punch down and stretch and press carefully to fit into pan.
Cover and let rise 30 minutes to 1 hour.
Carefully press to make shallow wells in the dough with your fingers.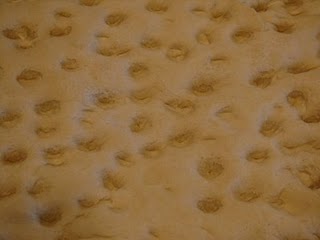 Carefully pour 1/3 cup olive oil over the dough. Sprinkle with salt.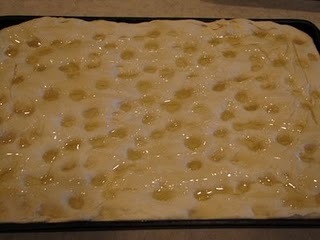 Bake at 400 degrees for 30 – 40 minutes.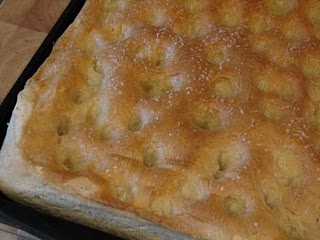 Cut into squares and serve.
Note: You can also sprinkle herbs on this after you place the oil on it.