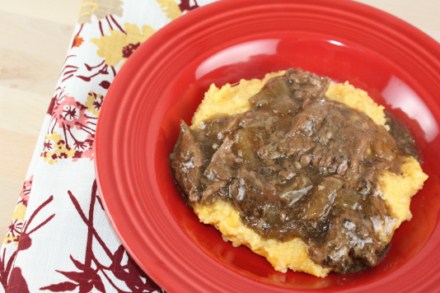 Round steak is a cheaper cut of meat, that if often tough, and hard to cook. My favorite way to cook it is in my crockpot. Cooking it long and slow, helps give it a better flavor and texture.
I often us round steak for my crockpot fajitas, but I don't always want a Mexican type meal. So, I have been trying to come up with different ways to use round steak.
I recently cooked round steak different than I had before, and it turned out well. In fact, I think this is one of the best ways that I have cooked round steak.
This turned out so flavorful and tender.
You can eat this over rice or noodles, but we enjoy it over grits. Whatever you serve this over, it will be good.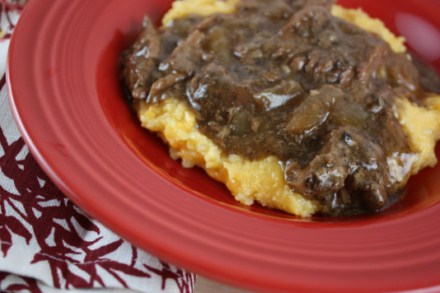 Crockpot Round Steak
1 ½ pounds round steak, cut into 3 inch chunks
1 medium onion chopped
3 cloves of garlic, minced
1 teaspoon dried thyme
1 teaspoon dried basil
2 cups beef broth
½ cup red wine
For last 30 minutes cooking
¼ cup cornstarch
¼ cup water
Place meat and onion in crockpot. Combine remaining ingredients, except water and cornstarch, and pour over meat and onion. Cook on low for 6-7 hours or until meat is tender. 30 minutes before serving, combine water and cornstarch and add to meat mixture. Cook on high for 30 minutes, this will thicken the sauce. Serve over rice, noodles, or grits.
This post linked to
Frugal Fridays
.