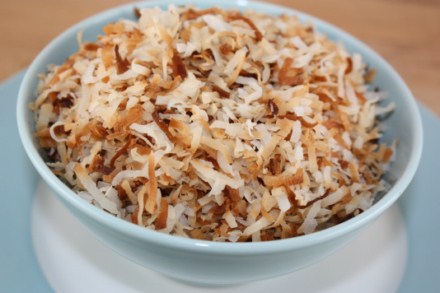 Coconut is an item used in many recipes, especially desserts. Many times these recipes will call for toasted coconut.
I want to encourage you not to skip the step of toasting coconut when a recipes calls for it.
I know many people find this step needless and too time consuming, but it really is important.
Toasting coconut gives it an extra depth of flavor that you cannot get otherwise. It also gives it a totally different texture. It gives it a crunch that regular coconut does not have.
Toasting coconut is easy.
Spread coconut on a cookie sheet.
Bake at 350 for 5-7 minutes or until browned. You will need to stir this around several times while it is cooking, so that it does not get over done in some spots.
Let cool and use as called for in recipes.
Do you like coconut? Do you use toasted coconut?