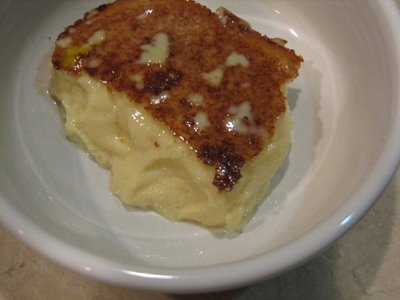 This recipe is a modern take on an old fashioned recipe. Old fashioned because it is a version of a simple oven baked egg, milk, and sugar custard. Modern because it contains sweetened condensed milk.
Many of our grandmothers and great grandmothers made custards because they were simple and contained ingredients they had on hand. But I doubt many of them would have made this version. I don't think sweetened condensed milk was a pantry staple until the last 30 or so years.
This recipe is one of my husband's favorite comfort desserts. This recipe is one that his mother gave me when we got married. It was one she made all the time when my husband was growing up. It is very easy to make.
My husband loves this when he is sick. It is not the healthiest, but he thinks of it as comfort food. This weekend he had a bad cold, so I made it for him. He was quite pleased since it had been a long time since I made it.
I also really like this. It is a simple but good dessert.

Custard
4 cups hot water
1 can sweetened condensed milk
5 eggs beaten
1 teaspoon vanilla
1/4 or so teaspoon cinnamon
Extra water for water bath
Whisk together ingredients.
Take a 9×13 pan and fill with about 1/2 inch of water.
Place an 11×7 (or about that size) pan in 9×13 pan filled with water. Mix together the 4 cups hot water, sweetened condensed milk, eggs, vanilla, and cinnamon. Pour custard mixture into 11×7 pan.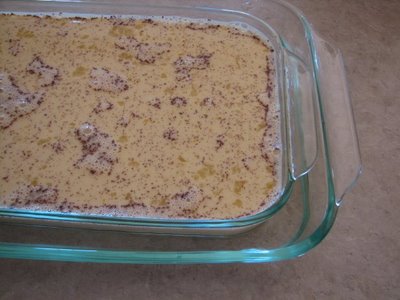 Like this. You are creating a waterbath. This is necessary to get the correct texture for the custard
Bake at 325 for 1 hour.