I have a large space above my kitchen cabinets. Ever since we moved into our house five years ago, I have struggled with what to do with this space. In my dream kitchen my cabinets will go all the way to the ceiling, so that I have more storage space, but for now I have to work with what I have.
I did not like this space blank, with nothing on it. I tried a few old jars and antique items, but that ended up feeling a bit flea market like for me.
So, for the last few years this is what the space above my kitchen cabinets have looked like.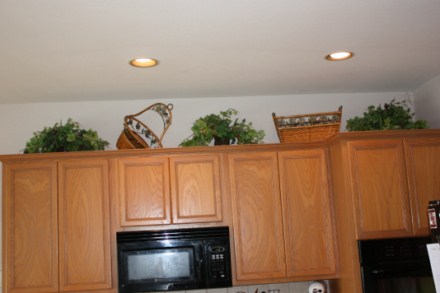 It was not my favorite, it looked a bit dated, but it worked.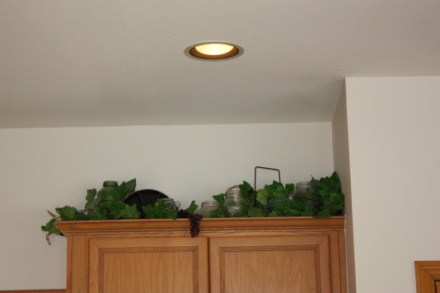 However, last week I decided that I had to do something. I was tired of looking at it, and wanted to update it without spending money buying a lot of new stuff.
I decided to take everything down and clean the space.
Note to self: You must clean the area above the kitchen cabinets more often. It was nasty up there.
Then I had to decide what I wanted to put up there.
I have mentioned before how much I love dishes and collecting them. I have a lot of different styles and colors of dishes, so I decided to try decorating this space with dishes.
After looking at what I had, and trying a few things out, I decided to use my white and ivory dishes to decorate the space.
I love the new look.
It has a much cleaner and updated look. I am really happy with it. Not only that if I get tired of it looking exactly like this, I can easily switch it out with other dishes.
This was such an easy and inexpensive way to change the look of my kitchen.
This post linked to DIY Day.