My daughter and I recently made a blueberry pie, I will share the recipe soon with you because it was very good. As we were making the pie I was teaching her some of the tips and tricks for making a really good pie.
As I put the pie in the oven I said to her, "When you are baking with fruit you always need to place a cookie sheet or pan under the pie or cobbler in case your pie makes a mess. "
When the pie came out of the oven, she said, " But mom it did not make a mess and I have never seen one make a mess for you."
To which I said, " Yes, but sometimes they do and you want to be prepared or your oven will be a mess."
That is not the exact conversation, but you get the idea.
So, a few days later I decided to make a blackberry cobbler. While I was working on the cobbler I was multi-tasking, like I usually do in the kitchen, and guess what I forget to do when I put the cobbler in the oven.
Do you see where this is going…….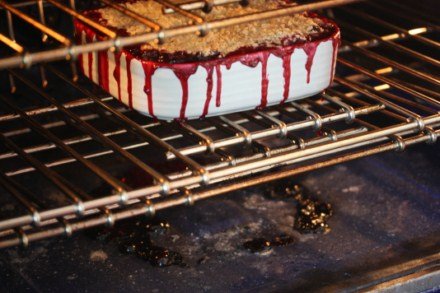 Guess who had a mess to clean up in their oven?!
So we get a lesson in, do as I say not as I do.
Otherwise known as the if you don't put something under your fruit pie or cobbler, it will be sure to bubble over, your oven will be a mess, and you will end up using the self cleaning cycle on a 90 degree day in June, lesson.
Please tell me I am not the only one that has done this?