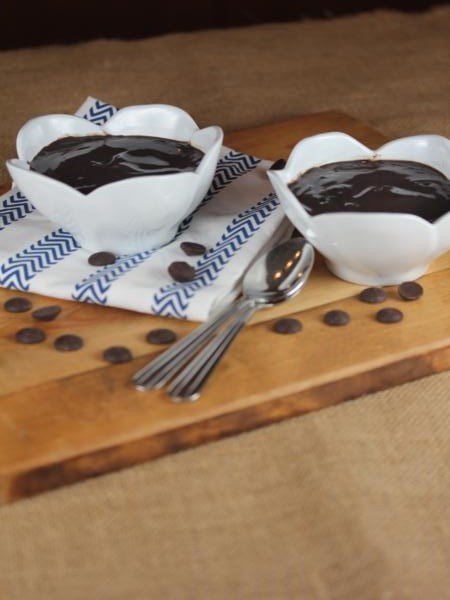 My mom always made homemade pudding when I was growing up and I loved it. There is something about homemade pudding that is just so much better than the stuff from the box.
I know many people have never made homemade pudding, but it is really not difficult at all. In fact, it is quite easy.
One of the things I love now about homemade pudding is that it is gluten free because most recipes use cornstarch to thicken it. And not only is it gluten free, it is a dessert that no one will think twice about being gluten free.
Pudding is one of those foods that is perfect for almost anytime.
This double dark chocolate pudding I am sharing today is a little different take on your regular chocolate pudding. I used dutch processed cocoa and dark chocolate chips to make it extra rich and delicious.
And most chocolate and baking cocoa is gluten free, but be sure to read labels to make sure it is gluten free if you are fixing this for someone that needs to eat gluten free.
Double Chocolate Pudding
1 cup white sugar
6 tablespoons dutch processed cocoa powder
1/2 cup cornstarch
1/8 teaspoon salt
5 1/4 cups milk
4 tablespoons butter
2 teaspoon vanilla extract
1/2 cup dark chocolate chips, be sure they are gluten free
In a saucepan, stir together sugar, cocoa, cornstarch and salt. Place over medium heat, and stir in milk.
Bring to a boil, and cook, stirring constantly, until mixture thickens. This will take 3- 5 minutes.
Remove from heat, and stir in butter, chocolate chips, and vanilla.
Stir until chocolate chips have melted. Serve warm, or chill in refrigerator until serving.