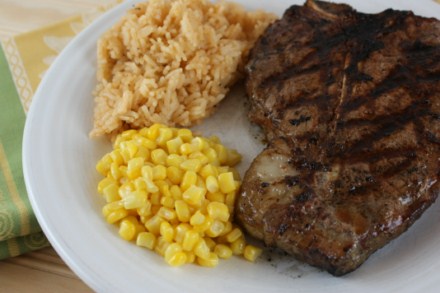 I have mentioned many times how much I love to grill. This time of year we grill several times a week. From steak, to chicken, to hot dogs, and sausages, we grill it all.
And can I just say, when I say, "we grill", I mean me. I do the grilling in this house. In many kitchen and homes, grilling is the "man" thing to do, but in our home I am usually the one in charge of the grill.
Now, this is not to say my husband does not enjoy grilling, he does. He used to do the majority of the grilling, but he often does not get home until after 6:00, sometimes closer to 7:00 at night. This presented a problem. If I waited until he got home to have him grill dinner, we would end up eating really late, and that did not work well for us.
I also found that after a long day at work, coming home to grill dinner was the last thing my husband wanted to do. So, I took over grilling, and I have done the majority since then.
Today's recipe is a simple steak rub. Dry rubs are great. They are a simple way to add flavor to steak or other meat. I like this rub for steak, but you could easily use this on other meats.
Do you have a favorite dry rub?
Yield: 6 servings
Dry Rub for Steak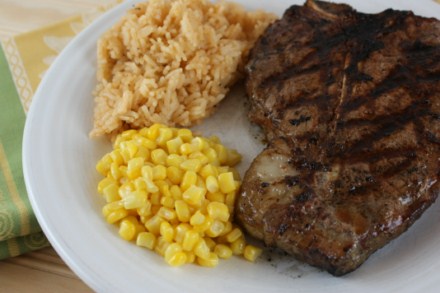 Homemade dry rub for steak using basic spices.
Ingredients
1 teaspoon kosher salt ( kosher salt really does work better in dry rubs)
1 1/2 teaspoons chili powder
1 teaspoon onion powder
3/4 teaspoon garlic powder
1/2 teaspoon paprika
1/2 teaspoon marjoram
1/4 teaspoon cumin
1/4 teaspoon ground black pepper
Instructions
Mix ingredients together in a small bowl. Let steak sit at room temperature for about 20 minutes.
Rub steak with oil. This is not necessary, but we like the way the steak cooks when rubbed in oil.
Sprinkle, and rub the seasoning mix into the steak, coating as desired. We like a lot of the seasoning on our steak.
Grill over heat until the desired doneness.
Nutrition Information:
Yield:
6
Serving Size:
1
Amount Per Serving:
Calories:

6
Total Fat:

0g
Saturated Fat:

0g
Trans Fat:

0g
Unsaturated Fat:

0g
Cholesterol:

0mg
Sodium:

230mg
Carbohydrates:

1g
Fiber:

0g
Sugar:

0g
Protein:

0g
Nutritional values are approximate and aren't always accurate.
This recipe is adapted from Weber's Real Grilling
cookbook.