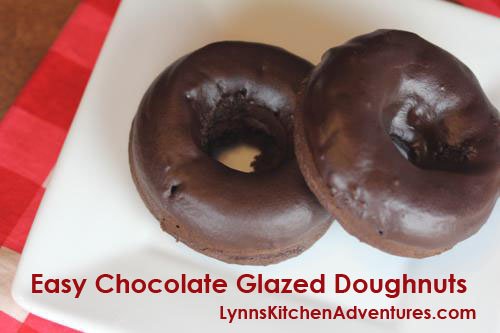 Easy Chocolate Glazed Doughnuts anyone?!
My sister gave me a doughnut pan a few months ago for my birthday and I have been having a lot of fun playing around with different recipes and combinations of doughnuts and toppings.
And now I am wondering why I did not buy myself a doughnut pan years ago. Seriously, homemade baked doughnuts are so good and so fun to make.
The chocolate glazed doughnuts I am sharing today are very easy because you use the shortcut of a cake mix. Yes, a cake mix, but it makes these really good.
Wouldn't these make a fun weekend treat for your family this weekend! I might just have to make another batch for my family.
If you want the gluten free version that I made, be sure to head over to my allergy section.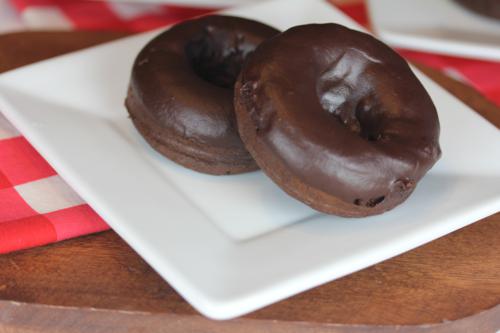 Easy Chocolate Glazed Doughnuts
makes about 18 doughnuts
For the doughnuts:
1 chocolate cake mix

2 eggs

1/2 cup butter, melted

1 cup milk
For the glaze:
1 cup semi sweet chocolate chips

4 tablespoons butter

4 tablespoons corn syrup

2 teaspoons water
Preheat oven to 350 degrees.

In a bowl combine cake mix, eggs, butter, and milk. Beat until smooth, about 2 minutes. 

Spread into greased doughnut pans.

Bake for 13-15 minutes.

Remove from pan and cool on wire racks.
For Glaze:
In a microwave safe bowl combine chocolate chips, butter, and corn syrup and cook until melted. I cook 30 seconds, stir, cook 30 seconds, stir, and repeat until smooth and melted. Add in water to thin out the glaze. 

Dip cooled doughnuts in glaze. The glaze will harden slightly as it sits.

Enjoy!
Doughnut recipe adapted from Duncan Hines.