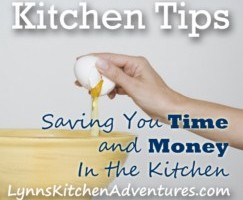 Today's kitchen tip is one of those kitchen tips that I wish I had thought of before now. Really, it is so simple, yet so helpful. I am guessing many of you may already do this, but I decided to go ahead and share this for those of you that have not discovered it yet.
I have mentioned before how much I love my cookie scoops. I use them all the time, but it was not until recently that I discovered they work great for making deviled eggs.
See I told you it was a simple tip. It is one of those tips that is almost too simple to share, but it works so well I knew I had to share it.
When making deviled eggs I usually just use a spoon. Sometimes I use a pastry bag if I want them to look really nice. But from now on I will be using cookie scoops.
What I like about using a cookie scoop is that it is easier to use than a pastry bag, but gives you a more neat and pretty result than a spoon. Sometimes it really is the simple things that makes life in the kitchen easier.
I know many of you love your cookie scoops as much as I do. I would love to hear some of your favorite ways to use them? (I am guessing that some of you have been using them for deviled eggs for years and I am a little behind the times on this one.)