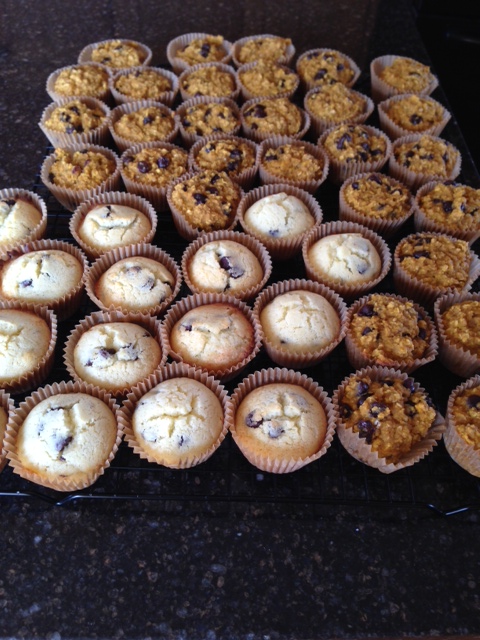 I came home recently from a busy day and was not feeling well. I had been to several doctor's appointments, and these muffins were waiting for me on the kitchen counter. They were made by my 13 year old daughter. She had noticed that the supply of breakfast foods in the freezer was getting low and she decided to help restock it. All of the sudden my day got a little bit better.
I remember well those days of young kids. Those days where I had no clue how I was going to get it all done. The days when I had a newborn, a two year old, and a four year old. Yes, the days where everyone always needs something or something always needed cleaned up.
I remember the times when the four year old wanted to help so bad in the kitchen, but I knew the help would just lead to a bigger mess. And the times when my girls were six and eight years old and they wanted to help so bad with dinner, but all I wanted to do was get dinner on the table.
Do you all have those days too?
I know many of you do. We have all had them. Many of them.
Too many times though I know I got lost in the have to get it done, I don't have time to show them how to do it mode. It was often so hard to stop and take the time to let my kids help me. But then I realized, how can they learn if I never let them help.
Often times the training is much harder than doing it yourself, but the training is so very important. Now that my kids are growing up, and two of them are in their teen years, I am so glad I stopped all those times when it was hard and inconvenient to let them help. The time it took to train them has paid off. They are now cooking on their own and enjoying it.
Those tough times teaching your kids in the kitchen will pay off. Some day you will be grateful you took the time. No it is not always easy, but it is so worth it.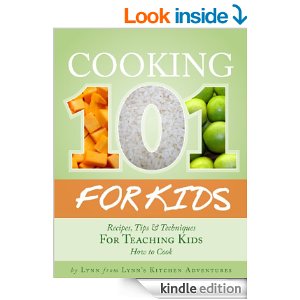 A couple of years ago I wrote the ebook Cooking 101 For Kids
because I really wanted to encourage my readers to spend time in the kitchen with their kids. Teaching them the basics. Simple things like measurements, following a basic recipe, and how to cook a few basic dishes.
Cooking is an important skill. It is a skill that will last a lifetime. We all need to eat and eating almost always involves some sort of cooking. You will never regret teaching your kids to cook.
In my ebook I share tips, ideas, and recipes that I used with my kids. These are the basics I taught them.
Because I love encouraging others to spend time in the kitchen with their kids, I wanted to let you know that the kindle version of my ebook, Cooking 101 For Kids
, is on sale this week for 99 cents. Yes, only 99 cents.
This book will help you teach them about:
Measurements
Tools and Common Ingredients
How to Follow a Recipe
How to Make Breakfast
Snacks, Appetizers and Side Dishes
Desserts and Treats
This price is only good through Sunday February 16, 2014. So be sure to get it while it is only 99 cents.
Note: For my gluten free readers, this book is not totally gluten free, but many of the recipes are or can be easily adapted to gluten free. And many of the tips and basic ideas apply to both regular and gluten free cooking.