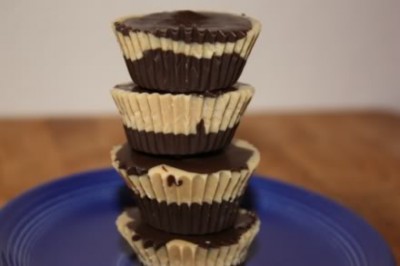 My husband loves peanut butter. He especially loves the peanut butter cups you buy. I have tried several versions of homemade peanut butter cups over the years, but I have not found a recipe that we really thought was great.
This year though I found a recipe in an old Martha Stewart Everyday Food magazine. It was a little different in that you use white chocolate in the peanut butter layer. I decided I would give Martha's version a try and oh was it good.
Seriously, these were so good. I made these for our office party and I think they were the most popular dessert item. There were none left and my kids think I need to make some more.
These really were as close to the real store bought ones that I have made. I will be making these again. They were really good, really easy, and really frugal to make.

Easy Homemade Peanut Butter Cups
4 ounces white chocolate, chopped
1/2 cup smooth peanut butter
12 ounces semisweet chocolate, chopped (or use chocolate chips)
Line two 12-cup mini muffin pans with paper liners; set aside. In a microwave-safe bowl, combine white chocolate and peanut butter. Microwave, until almost melted, 1 to 1 1/2 minutes, stirring halfway through. Set aside to cool slightly.
Meanwhile, place semisweet chocolate in another microwave-safe bowl. Microwave, stirring every 30 seconds until melted, 2 to 3 minutes total.
Dividing evenly, use a spoon to layer semisweet chocolate and peanut-butter mixture into liners, beginning and ending with chocolate. Place muffin pans in freezer or refrigerator until peanut butter cups are firm, usually15- 30 minutes. Store in refrigerator and bring to room temperature before serving. These are best at room temperature.