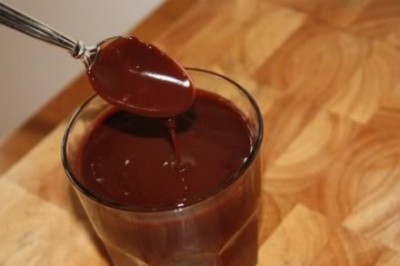 I have tried several hot fudge sauces over the last few years. I started trying to make my own hot fudge sauce in order to avoid the store bought version that is full of ingredients that I cannot pronounce. The homemade version may not be healthy, but at least I know what is in it.
I recently tried a new recipe for homemade hot fudge sauce that came from an Everyday Food Magazine. This recipe contains corn syrup, which is something I try to not use very often, but I figure hot fudge sauce is not something I make or serve often. I decided that since this recipe was easy and looked good, I would give it a try even though it contained corn syrup and let me tell you the corn syrup is the trick.
This was by far the best hot fudge sauce I have made. I used this in a pudding dessert that I made and we also used it over vanilla ice cream. This was so good. My whole family loved it. I could have eaten this by the spoonful. I doubt I will ever buy hot fudge sauce again. If I can find a recipe this easy and this good, why buy it.
This hot fudge sauce would also make a really nice holiday food gift. You can make a large batch of this up and then place it in a pretty or unique jar for a really nice gift. I can't think of anyone that does not like hot fudge sauce.

Homemade Hot Fudge Sauce
1/3 cup light corn syrup
1 cup heavy cream
8 ounces chopped semisweet chocolate ( I used chocolate chips)
In a medium bowl, combine corn syrup and heavy cream. Microwave on high about 4 minutes, stirring at least twice. Stir in chocolate. Let stand 2 minutes, then whisk until smooth. Store leftover sauce in the fridge and warm in the microwave to serve.
For more recipes see
Frugal Fridays
,
Foodie Fridays
, and
Grocery Cart Challenge
.