I love truffles and have always wanted to make them, but I never have made them. I do not know why because most recipes are really easy. They do take time, but they are really easy. They are also a pretty frugal holiday candy to make.
This recipe is based on a recipe I saw in an old Everyday Food Magazine. I changed them up a little, but the basics are the same. You could roll these in quite a few things. I rolled some of mine in chopped nuts and some in chopped Andes Mints. But you could also roll these in chopped mints, powdered sugar, or other candy.
You could also easily add mint extract or another extract to this after you melt the chocolate. I think that would be really good.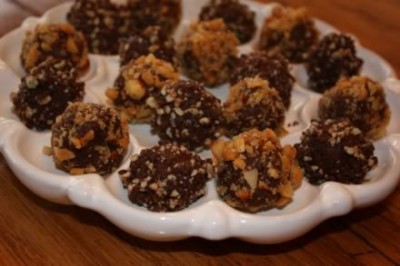 Easy Truffles
1 cup heavy cream
1 1/2 cups semisweet chocolate chips (or 10 ounces semisweet chocolate, finely chopped)
1 cup finely chopped pecans or chopped Andes Mints
In a medium saucepan, bring cream to a boil; remove from heat, and add chocolate. Let stand 3 minutes; whisk until smooth. Transfer chocolate mixture to a medium bowl, and refrigerate, uncovered, until thick and firm enough to spoon out in mounds, about 3 hours.
Line a rimmed baking sheet with parchment or waxed paper. Drop level tablespoons of chocolate mixture onto baking sheet. Refrigerate chocolate mounds until firm, about 1 hour.
Place pecans in a shallow bowl. Using hands, roll each chocolate mound into a ball; roll balls in pecans, pressing lightly to adhere, and place on baking sheet. Refrigerate truffles until set, 30 minutes to 1 hour. Store in an airtight container in the refrigerator up to 2 weeks.
For more frugal recipes and ideas see
Frugal Fridays
and
Grocery Cart Challenge
.
For more recipes see Foodie Fridays.